Search the Collection: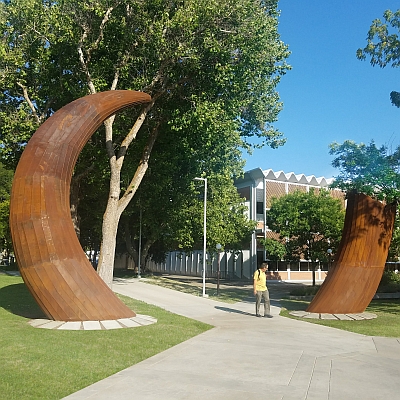 Artwork copyright Ilan Averbuch. Photo courtesy of the artist.
Big and Tall
My Public Art Portal now includes large images of the artworks. You can click on every image, to see it as big as your screen size (sorry mobile users, but it will still be bigger). To celebrate our larger images, we're showing off our larger artworks: the biggest, heaviest, hugest, tallest, longest!
Two of the most massive and heaviest artworks in the State Art Collection are by Ivan Averbuch: "The House and the Boat" (30,000 pounds) at Bellingham Technical College and "Mammoth" (22,000 pounds) at Central Washington University.
One of the biggest paintings is Lucinda Parker's "Where Water Comes Together With Other Water" at more than 10 1/2 ft x 40 ft long for Lower Columbia College.
Dick Elliott's "Circle of Light" is the longest artwork at 880 feet. It wraps around the entire circumference of Yakima's "Sundome" building.
And then there's the giant glass: Cappy Thompson, Dick Weiss, and Steve Gardner are all included with some huge and awe-inspiring glass installations.
A little bit of almost everything is included here – sculptures, site-specific installations, glass, and paintings – but all of it is gigantic.
Read Less
Read More →