Washington State Poet Laureate
Connecting Washington to the power of poetry
The Washington State Poet Laureate builds awareness and appreciation of poetry through public readings, workshops, lectures, and presentations. Laureates perform this work in culturally and geographically diverse communities throughout the state. The Washington State Poet Laureate program is jointly sponsored by the Washington State Arts Commission (ArtsWA) and Humanities Washington.
Meet Arianne True, the 2023-25 Washington State Poet Laureate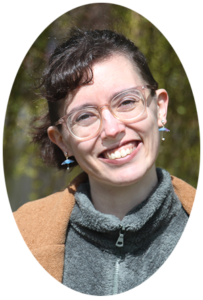 Arianne True (Choctaw, Chickasaw) is a queer poet and teaching artist from Seattle, and has spent most of her work time working with youth.
She's received fellowships and residencies from Jack Straw, the Hugo House, Artist Trust, and the Seattle Repertory Theater, and is a proud alum of Hedgebrook and of the MFA program at the Institute of American Indian Arts. She lives in Burien with her cat.
Follow her on Instagram at @wapoetlaureate.
---
.
Interested in hosting Arianne True for a reading, workshop, or other event?
---
📅 Upcoming Events
Reading during RevitalizeWA's Opening Plenary
Wednesday, October 4, 2023| 4:30 – 6:00 p.m.
Kiggins Theatre | 1011 Main St Vancouver, WA
As part of the kickoff to the Washington Trust for Historic Preservation's statewide place stewardship and preservation conference, RevitalizeWA's Opening Plenary will focus on what it means to care about a place and how we can all act on that care. The Plenary is free and open to the public.
Learn more
Indigenous Peoples Day Poetry Reading
Monday, October 9, 2023 | 5:30 – 7:30 p.m.
ʔaʔkʷustəŋáw̕txʷ House of Learning, Peninsula College Longhouse | Port Angeles campus
In honor of Indigenous Peoples' Day, celebrate poetry created and performed by Native poets. Washington State Poet Laureate Arianne True will begin the event with a reading, followed by an open mic for Indigenous community members to share their poetry. A sign-up sheet will be available at the event and participation by Native poets of all experience levels is encouraged.
Learn more
Gathering of Regional Poets
Saturday, October 14, 2023 | 4:00 – 7:00 p.m.
BookTree Kirkland | 609 Market Street Kirkland, WA
In addition to Arianne's reading this event will feature a panel of regional poets who will discuss cooperation among Washington's literary communities. A grand Open-Mic will end the afternoon. Free and open to the public.
Learn more
The Washington State Legislature passed a bill in 2007 to establish the Washington State Poet Laureate program. The bill recognized the value of poetry to the state's culture and heritage.
The Governor appoints the Laureate based on recommendations from a geographically and culturally diverse panel of representatives from Washington's arts, humanities, and literary communities.
Once appointed, ArtsWA and Humanities Washington provide funding for the honorarium ($40,000 annually), travel and project expenses, and administrative support for the Laureate.
The Laureate serves a two-year term. The 2023-2025 Laureate's term begins May 1, 2023.
Poet Laureate nominations are submitted using an online portal (Submittable).
A geographically and culturally diverse panel of representatives from Washington's arts, humanities and literary communities score each nomination. The panel identifies finalists (generally up to three) to be interviewed by the panel. These interviews will happen via video conferencing/or in person depending on circumstances at that time. After the interviews, the panel makes a recommendation to Governor Inslee, who appoints at his discretion.
ArtsWA and Humanities Washington staff do not score nominations or make recommendations on candidates during the selection process but do help facilitate the process and answer technical questions.
Questions?
Britt Madsen, Grants To Organizations (GTO) Program Specialist, and ArtsWA lead for the Washington State Poet Laureate program.
Phone: 360-485-1509
Email: britt.madsen@arts.wa.gov
Additional support for the Poet Laureate program comes from Amazon Literary Partnership Poetry Fund and the Academy of American Poets.