Search the Collection: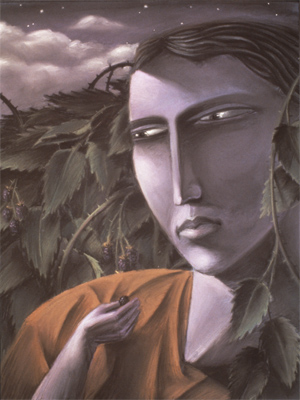 Artwork copyright Steve Gardner. Photo courtesy of the artist.
Skagit Valley, Selections by Miguel Guillén
"I remember the soil, the sky, the clouds, the trees dripping rain, the endless rows of crops, spinach, tulips, cauliflower, broccoli, strawberries, raspberries, cucumbers, beets, daffodils, and others forgotten, the seedlings poking through the soil as we cleared the weeds with our sharpened hoes so no nutrients were lost, the weight of their seeds and their fruit at harvest. Our tender care of the plants while we sang, talked, gossiped, whistled the tunes to Rancheras in unison, and danced with our hoes. The laughter and comradery while we stretched across the fields in groups, but always in order, human pillars against the crops, our hoes a crosshatching movement against the planted pattern of the farmer's crops. Cars zooming by on the roads around the fields, we invisible to them save for the occasional honk of a fellow farmworker that happened to be driving by, signaling their solidarity; and always under the watchful, beautiful, somewhat mournful, timeless, eye of the white hooded peak that is Mt. Baker. The Skagit Valley. Your memory is a seed planted deep in my soul. One day my bones will rest in your soil with those of my father."
–Curated by Miguel Guillén, ArtsWA Grants to Organizations Program Manager. Miguel is an artist like his father and enjoys words and language like his mother who is an avid reader, writer, and poet.
Read Less
Read More →