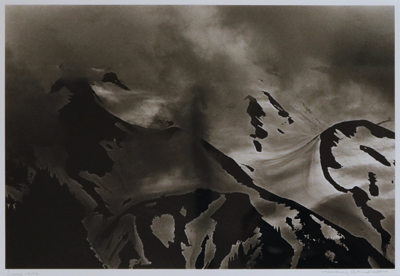 Artwork copyright Mary Randlett. Photo courtesy of Washington State Arts Commission.
Mountain Fragment: Mt. Baker,
1996
Mary Randlett

(American, born 1924, died 2019)
ABOUT THE ARTWORK
Mountain Fragment: Mt. Baker was taken by late photographer Mary Randlett from a view point that highlights the rich variation in light and shadow of the Northwest mountain peak. Speaking to her process of working in the field, Randlett stated, "nature is the rejuvenator of aesthetic energy and is the enricher of my life and work."
This artwork was acquired for the State Art Collection in partnership with Concrete School District.
ABOUT THE ARTIST
Photographer Mary Randlett (1924-2019) created iconic compositions focused on the prominent figures, landscape and architecture of the Pacific Northwest. She is well known for her portraiture of the artists that comprised the "Northwest School" movement of the 1930s and 40s. Over forty national institutions hold her work in their collections. These include the Metropolitan Museum of Art in New York City, the Smithsonian Institution in Washington D.C, and the University of Washington in Seattle. She received the Artist Trust Lifetime Achievement Award in 2001.
ARTWORK DETAILS
| | |
| --- | --- |
| Material Category | Work on paper - photograph |
| Medium | Gelatin silver print on paper |
| Dimensions | 8 1/2 in x 13 1/2 in |
| ID Number | WSAC1996.132.000 |
| Acquisition Method | Direct purchase |
| Artist Location | Washington, United States |
Location Information
Agency
Concrete School District
Artwork Location
Concrete School District
Administration Office
WA County
Skagit
Placement
Interior
Site Type
Public School
Address
45389 Airport Way, Room 103
Concrete, WA 98237
Geo. Coordinates
48.532042 | -121.757082
Before Visiting
Some artworks may be located in areas not accessible to the general public (especially in K-12 public schools). Consider contacting the site prior to a visit to ensure access.
Map









Menu