Search the Collection: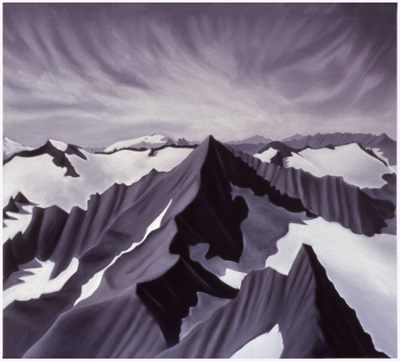 Artwork copyright Patrick Anderson. Photo courtesy of the artist.
Mountains of the PNW: the Cascades
Washington is full of mountains, right down the middle (as well as on the Olympic Peninsula). The North Cascades mountain range extends north from Washington State into British Columbia, Canada. The Cascade Range mountains extend even further into California and include the North Cascades.
The Northwest is full of serious hikers and climbers, as well as casual hikers, and this group includes artists. Many Washington artists call out the landscape and their activities within it as a source of inspiration. Patrick Anderson's prints are often started while in the mountains on hikes. Debra Davis worked summers as a trail technician for the U.S. Forest Service where she absorbed and sketched the world around her, and then returned to her studio in the winter to continue the art-making. Bill Colby included Mount Rainier in his prints over a lifetime and never tired of the awesome mountain's shape and seasons. MIchael Williams' night-time long-exposure photographs that he calls "Stellarscapes" were inspired by his camping trips in the mountains. Williams notes that "it's a good excuse to stay out all night. Mostly, though, I'm still hoping to find my place in the universe." I don't think he's the only one.
Read Less
Read More →