Search the Collection: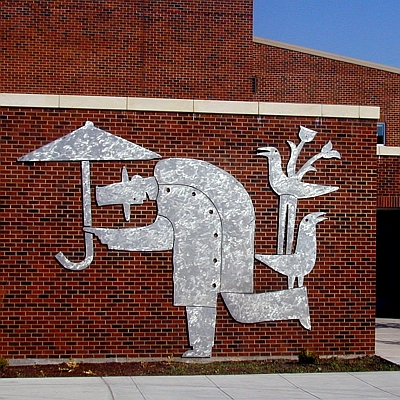 Artwork copyright . Garth Edwards. Photo courtesy of the artist.
Art at K-12 Schools
Approximately 60% of Washington's State Art Collection (of more than 5,000 artworks) is located in K-12 public schools across the state.
Public art enhances and enlivens the built environment and atmosphere of these spaces. This is particularly important in learning environments, where arts experiences have been shown to increase the potential for children to learn.
Public art can also serve as a great jumping-off point for active arts learning for K-12 students. Explore our art education resources in "Browse by Web Exhibitions" under: Arts Education, Artwork Lesson Plans, and Visual Arts Learning.
When Washington State contributes to the construction of a new building such as a public school, one-half of one percent of the state's cost is reserved for art. A local committee is formed to select artworks created especially for their buildings or campuses. Together the committee selects an artist from the ArtsWA Public Artist Roster, reviews the artist's design, and approves the final proposal. All of this ensures that the artworks are embedded within our public spaces and relevant to the local communities.
Read Less
Read More →