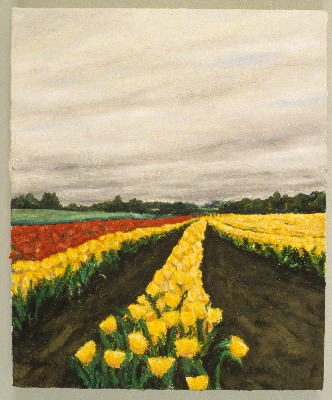 Artwork copyright Mindi Katzman. Photo courtesy of the artist.
Skagit Valley, Yellow Tulips,
1991
ABOUT THE ARTWORK
Skagit Valley, Yellow Tulips is a painting by artist Mindi Katzman. It is part of her body of works depicting the landscape and tulip fields of the Skagit Valley in Northwestern Washington. She notes, "The brilliant colors of the flowers against the blue greys of the skies and mountains left a strong impression upon me…"
This artwork was acquired for the State Art Collection in partnership with Clover Park School District.
ABOUT THE ARTIST
Seattle-based artist Mindi Katzman creates encaustic artworks (made using melted wax) that explore landscape imagery inspired by her world travels.
ARTWORK DETAILS
| | |
| --- | --- |
| Material Category | Painting - paint on fabric |
| Medium | Oil paint on canvas |
| Dimensions | 17 in x 14 in |
| ID Number | WSAC1993.055.000 |
| Acquisition Method | Direct purchase |
| Artist Location | Washington, United States |
Location Information
Agency
Clover Park School District
Artwork Location
Custer Elementary School
Library
WA County
Pierce
Placement
Interior
Site Type
Public School
Address
9219 Lakewood Drive S.W.
Lakewood, WA 98499
Geo. Coordinates
47.180424 | -122.540271
Before Visiting
Some artworks may be located in areas not accessible to the general public (especially in K-12 public schools). Consider contacting the site prior to a visit to ensure access.
Map





Menu