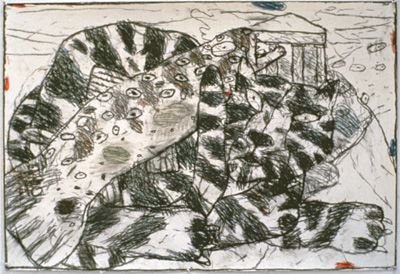 Artwork copyright Gaylen Hansen. Photo courtesy of the artist.
Cat Temple & Fish,
1992
ABOUT THE ARTWORK
Cat Temple & Fish is a drawing by artist Gaylen Hansen. It is part of a body of imaginative artworks that feature oversized animals that become part of a fantastical landscape or environment. Hansen composed these characters in a way that plays with scale and with our perceptions of nature and reality.
This artwork was acquired for the State Art Collection in partnership with Peninsula School District.
ABOUT THE ARTIST
Artist Gaylen Hansen creates expressive figurative paintings and drawings. Many of his works depict a character called the "Kernal" who travels through surreal landscapes that reference the Palouse region of Washington where Hansen lives and works.
Born in Garland, Utah, Hansen received his Master of Fine Arts degree from the University of Southern California in Los Angeles in 1953 and taught art at Washington State University in Pullman, Eastern Washington. He was honored with a Washington State Governor's Arts and Heritage Award in 1989/90.
ARTWORK DETAILS
| | |
| --- | --- |
| Medium | Charcoal on paper |
| Dimensions | 2 ft 6 in x 3 ft 8 in |
| ID Number | WSAC1995.335.000 |
| Acquisition Method | Direct purchase |
| Artist Location | Washington, United States |
Location Information
Agency
Peninsula School District
Artwork Location
Harbor Heights Elementary
Library
WA County
Pierce
Placement
Interior
Site Type
Public School
Address
4002 36th St NW
Gig Harbor, WA 98335
Geo. Coordinates
47.292257, -122.593386
Before Visiting
Some artworks may be located in areas not accessible to the general public (especially in K-12 public schools). Consider contacting the site prior to a visit to ensure access.
Map