Search the Collection: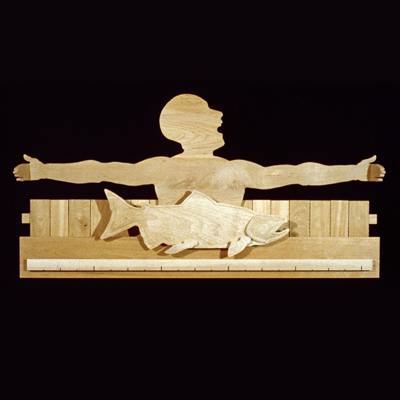 Artwork copyright Kim Hoffman. Photo courtesy of the artist.
Fishing: The Art of Angling
Washington State is known for its good fishing opportuniities: from fly-fishing for bass and trout on freshwater lakes and streams east of the Cascades mountains, to trolling for salmon along the coast of the Pacific Ocean, to crabbing in Puget Sound. Artists have also noted this opportunity and featured it in their art. Fishing can reveal new landscapes, both above and below water. Fishing is a good partner to observing the world around us. And fishing can be political: from treaty rights to environmental issues.
Here we feature fish and other watery creatures in the State Art Collection, as well as scenes of fishing.
"If I fished only to capture fish, my fishing trips would have ended long ago." –Western writer Zane Grey.
Read Less
Read More →