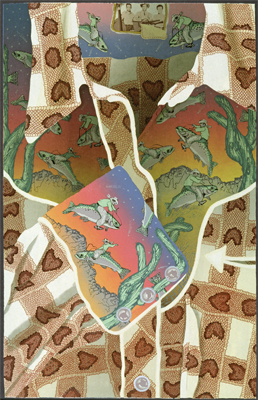 Artwork copyright R. E. Beans. Photo courtesy of the artist.
Yakima Kid,
1980
Location:
Representative Pat Sullivan's Office, Olympia
ABOUT THE ARTWORK
Yakima Kid is a screenprint by artist R. E. Beans (also known as Larry Knodel). The whimsical composition shows a close-up view of a western shirt in a plaid and snakeskin pattern. The shirt's yoke and sleeve cuff feature sunset, desert landscapes. Saguaro cactus and salmon-riding cowboys also appear in these scenes.
This artwork was acquired for the State Art Collection in partnership with Bethel School District.
ABOUT THE ARTIST
Northwest artist and teacher Larry Knodel is also known by the name R. E. Beans. He notes, "My work deals with visual puns and enigmatic images that magnify ordinary life events into mildly magic and surreal metaphors. My purpose in doing so is not simply to make visual jokes, but rather to make seriously playful judgments about life and society."
Knodel, aka R. E. Beans, was born in South Dakota. He received an Associate Arts degree from Green River Community College in Auburn, Western Washington. He received a Bachelor of Fine Arts degree and a Master of Fine Arts degree in printmaking from Central Washington University in Ellensburg. He has taught at the University of Arizona in Tucson and at Central Washington University.
ARTWORK DETAILS
| | |
| --- | --- |
| Medium | Screenprint on paper |
| Dimensions | 33 1/5 in x 21 1/4 in, 40 1/4 in x 28 1/4 in x 1 3/4 in (framed) |
| ID Number | WSAC1984.040.000 |
| Acquisition Method | Direct purchase |
| Artist Location | Washington, United States |
Location Information
Agency
Washington State House
Artwork Location
Representative Pat Sullivan's Office
House Majority Leadership Suite, South Wall
WA County
Thurston
Placement
Interior
Site Type
State Agency
Address
339A Legislative Building, Capitol Campus
Olympia, WA 98504
Geo. Coordinates
47.041975 | -122.901474
Before Visiting
Some artworks may be located in areas not accessible to the general public (especially in K-12 public schools). Consider contacting the site prior to a visit to ensure access.
Map

Menu