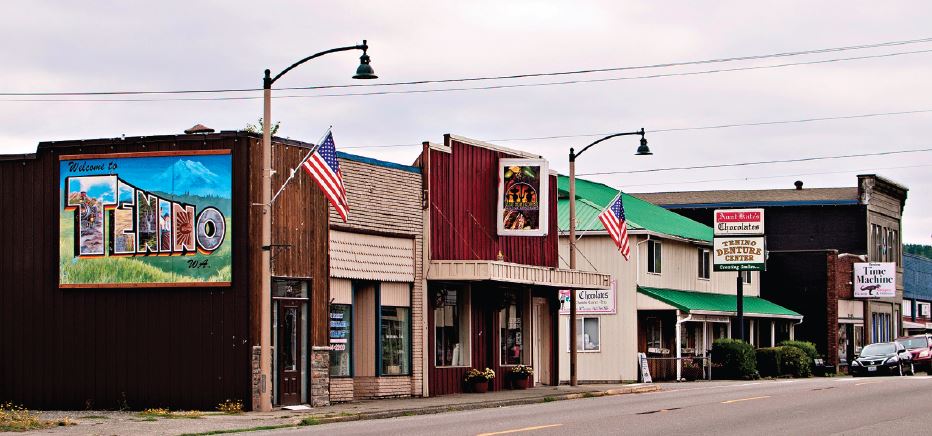 Located 17 miles south of Olympia, along historic Old Highway 99, the Tenino Creative District embodies a historical connection to the stone industry. From 1900 through the 1920s, the quarrying and shaping of local sandstone was a booming local industry. The City still proudly displays its sandstone history through the historic buildings of downtown, the quarry swimming pool, the public art carved in stone, and through the Tenino Depot Museum.
The City of Tenino is is composed entirely of locally owned small businesses. It also sits at the end of a bike and walking trail system that spans 36 miles connecting the cities of Olympia, Lacey, Yelm, and Rainier.
The Tenino Creative District is home to the Master Stone Carvers and the Sandstone Historic Walking Tour. The District also has independent family owned restaurants, a winery & brewery, a chocolatier, a family owned and operated pharmacy & gift shop, a grocery store, salons, photographers, metal and glass artists, boutiques and antique stores. The Tenino Farmers Market and the new Tenino Artisan Market take place within the Creative District.
At the Museum, visitors can see the original printing press used to make Tenino's famous wooden money. This press still works, and recently was fired up again to print Tenino Script as part of a COVID-19 Grant program that was featured on CBS Sunday Morning and many media outlets across the world.
Tenino artists believe the designation will call attention to the fact that there are a lot of creative people who live and work in the area. "We have artists here! I'm hoping that having this designation will help travelers and folks throughout the region view Tenino as a destination," said Donna Taylor Mayo, a Tenino artist. "Art is the soul of a community and I'm excited that the Creative District will celebrate and promote artists and their work."
Tenino's authentic small-town feel, with a walkable district built of local stone, surrounding natural and working lands, are the keys to this vibrant pedestrian-oriented business district with historic character.
The Creative District and new Tenino Artisan Market were recently feature in an article in the Chronicle.
Learn more about the Tenino Creative District by clicking here