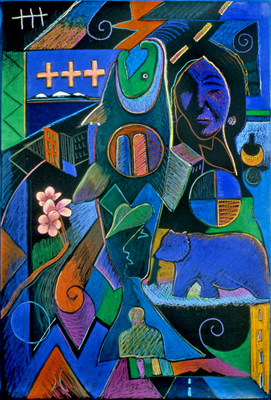 Artwork copyright Conrad House. Photo courtesy of the artist.
Portland #2,
1988
Conrad House

(American | Navajo-Oneida, born 1956, died 2001)
ABOUT THE ARTWORK
Composed on a black background, Portland #2 by late artist Conrad House. It depicts a richly colored and abstracted cityscape layered with plant, animal, human, and symbolic figures representative of the Pacific Northwest. House described his drawing process as playful, noting "I thoroughly enjoy creating. It allows me a lot of freedom to explore, experiment and grow."
This artwork was acquired for the State Art Collection in partnership with Seattle School District.
ABOUT THE ARTIST
Late artist Conrad House (1956-2001) of the Navajo-Oneida Nation created expressive artworks in multiple mediums, including ceramics, paintings, drawings, and glasswork. His artworks are in the collection of the Smithsonian's National Museum of the American Indian, Portland Art Museum (0regon), and many more.
Conrad earned a Bachelor of Fine Arts desgree from the University of New Mexico in 1980. He pursued graduate studies at the University of Oregon. He also spent time at Pilchuck Glass School in Stanwood, Northwestern Washington.
ARTWORK DETAILS
| | |
| --- | --- |
| Material Category | Work on paper - drawing |
| Medium | Pastel on black Arches cover paper |
| Dimensions | 44 in x 30 in |
| ID Number | WSAC1991.204.000 |
| Acquisition Method | Curated Selection |
| Artist Location | Arizona, United States |
Location Information
Agency
Seattle Public Schools
Artwork Location
Hay Elementary School
Staff lounge
WA County
King
Placement
Interior
Site Type
Public School
Address
201 Garfield St.
Seattle, WA 98109
Geo. Coordinates
47.632942 | -122.352234
Before Visiting
Some artworks may be located in areas not accessible to the general public (especially in K-12 public schools). Consider contacting the site prior to a visit to ensure access.
Map





Menu