Search the Collection: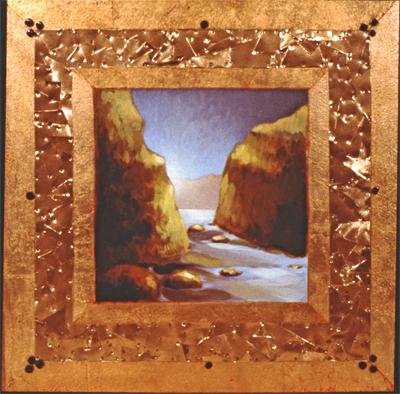 Artwork copyright Kathleen Caprario. Photo courtesy of the artist.
Oregon: The Muse
Oregon is the muse in a variety of ways in Washington's State Art Collection. Photographs, paintings, and drawings reveal the different faces of the Oregon coast, the Columbia River Gorge, the city of Portland, and the vast forests and mountain ranges. Oregon is one of the most geographically diverse states in the United States. It contains volcanoes, abundant bodies of water, dense evergreen and mixed forests, as well as high deserts and semi-arid shrublands.
Photography makes up more than two-thirds of these artworks featuring Oregon. The geography and moody weather is an inspiration to several well-known, Oregon-based photographers such as Terry Toedtemeier, Stu Levy, David Wilson, and more.
Paintings by James Lavadour and Kathleen Caprario are also seen here. Both artists are known for their imagery of Oregon.
You can also search for artworks by over 120 artists who are based in Oregon. (This web exhibition represents thirty-five of those artists.) Go to: Search the Collection > Basic Information > Choose an Artist Location.
Read Less
Read More →