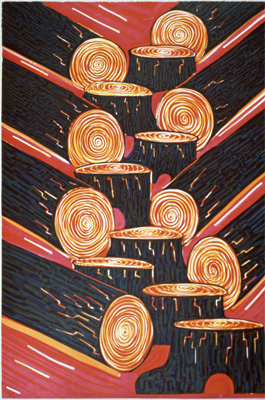 Artwork copyright Barbara Eiswerth. Photo courtesy of the artist.
Tree of Man #5,
1988
Location:
Mountain Way Elementary, Granite Falls
ABOUT THE ARTWORK
Artist Barbara Eiswerth's monotype print Tree of Man #5 is part of a series that focuses on how we mistreat our natural forests and lands. She created the series during an artist residency at the Ucross Foundation in Wyoming. She based the imagery on clear-cut forests in Oregon. She notes, "It is our responsibility to take care of our land as if we loved it, not as if it is an enemy to be destroyed. Taking care of nature, as we want it to take care of us."
Monotypes are unique prints created by painting with inks directly onto the printing plate. Eiswerth noted that "It is the most spontaneous of any printmaking form, this is why I like it... This process is extremely challenging and equally rewarding: when you pull a perfect print."
This artwork was acquired for the State Art Collection in partnership with Granite Falls School District.
ABOUT THE ARTIST
Portland, Oregon-based artist Barbara Eiswerth creates artworks that address environmental issues through an imaginative, personal lens. Raised in Pennsylvania, she received a Bachelor of Fine Arts degree from Lock Haven University. She studied abroad in Poland and England as part of her degree. She later attended the Pennsylvania Academy of Fine Arts in Philadelphia.
ARTWORK DETAILS
| | |
| --- | --- |
| Medium | Monotype |
| Dimensions | 43 1/2 in x 29 3/4 in |
| ID Number | WSAC1990.214.000 |
| Acquisition Method | Direct purchase |
| Artist Location | Oregon, United States |
Location Information
Agency
Granite Falls School District
Artwork Location
Mountain Way Elementary
Main hall
WA County
Snohomish
Placement
Interior
Site Type
Public School
Address
702 N Granite Ave.
Granite Falls, WA 98252
Geo. Coordinates
48.089237 | -121.970501
Before Visiting
Some artworks may be located in areas not accessible to the general public (especially in K-12 public schools). Consider contacting the site prior to a visit to ensure access.
Map



Menu