Washington State Arts Commission Fiscal Year 2022 Annual Report
ArtsWA is Washington State's arts agency. We are a catalyst for the arts. Our work advances the role of the arts in the lives of individuals and communities throughout the state.
Join Washington State Arts Commission's Executive Director, Karen Hanan, for a short retrospective of ArtsWA's 2022 fiscal year.
AIPP is viewed as a national leader for its diverse collection and strong acquisition and collection care practices.
Established in 1974 and funded through state building construction, the State Art Collection now includes more than 5,000 works in places where people work, study, and live.
Acquisitions
Art in Public Places (AIPP) acquires artwork for Washington's K-12 public schools, state agencies, universities, and the community and technical college system. AIPP's project managers work with local committees in the communities that host state-funded artwork. 2022 marked the return of in-person meetings and bringing artwork into spaces that are beginning to return to pre-pandemic normalcy.
There is decidedly a "new normal" to AIPP's work shaped by the last few years. We've embraced remote technology for meetings that don't need to be in person—reviews of updated architectural renderings or modest changes to an artwork's design, for example—saving time and dollars. A pause in the busy travel schedule of project managers allowed the AIPP team more time to evaluate the program and focus on improvements. Through increased outreach and planning, along with revisions to our selection criteria, the current Public Artist Roster is perhaps our most diverse and inclusive ever. Approved in August 2021, the Roster—our main tool for artist selection—now has 476 artists and artist teams, including higher percentages of artists of color, emerging public artists, and artists from rural, central, and eastern Washington. Our local art selection committees are now choosing their artists from a deep Roster, and we're beginning to realize our vision for a more diverse and culturally representative State Art Collection.
With many Covid-related restrictions starting to lift, artists had better access to fabricators, materials, and project sites. During this fiscal year, AIPP oversaw the installation of 25 commissioned artworks and 4 curated collections across 12 counties. For more information on these 29 projects, visit New Art: July 2021 to June 2022 on My Public Art Portal.
"We sincerely appreciate the support Washington State provides schools to create meaningful art in our schools!"
– Dr. Debra Clemens, Superintendent, North Thurston Public Schools
Collections
The AIPP Collections team takes care of the 5,000 artworks that make up the State Art Collection. We maintain and repair artwork, hire outside experts when needed, and track locations, conditions, and historic records for the Collection.
In FY22, ArtsWA staff and contactors evaluated more than 350 artworks to determine maintenance or repair needs. We performed maintenance or conservation on 147 artworks. These activities range from re-framing works on paper to re-painting a large outdoor sculpture. They can include microscopic repairs. They can also include larger, structural changes. We worked across the state in places ranging from Battle Ground to Toledo to Bellevue to Graham to Ellensburg, Okanogan, and Wapato.
One project was the conservation and re-siting of three artworks to Virginia Grainger Elementary in Okanogan. Two exterior, bronze sculptures by Gerald Allen and James Hansen now welcome students into the school. Frank Samuelson's 16-foot-long painting See, Play, Learn, Grow (1986) now graces the school's library. Artworks also found new homes at the Department of Health, Amistad Elementary, and Pioneer Elementary.
We worked in partnership with the University of Washington Bothell's campus to restore Norie Sato's artwork Dialogue: Bothell Codex (2002), a flagstone plaza in the center of campus. We re-framed and re-installed Eagle (1976) by Marvin Oliver at the newly remodeled Toledo High School. And we coordinated with Bellevue College to clean and apply a protective coating to Harold Balazs' A Collection (1997) at the Puget Sound Regional Archives.
ArtsWA's largest ever conservation project got underway in FY22. Dick Elliott's 880-feet-long Circle of Light (1992) is being completely restored, 30 years after its original installation. The State Legislature appropriated dedicated funding for this project. A team of workers will replace all 50,000, 3-inch reflectors with new, custom-made reflectors from the same manufacturer that made the originals. ArtsWA will complete the restoration in FY23.
Projects like these are essential to the health of the State Art Collection. They require funding and a strong network of staff and fine art workers to protect important cultural assets.
My Public Art Portal
We have been around for seven years now! My Public Art Portal is the online version of Washington's State Art Collection. Our entire Collection of over 5,000 artworks is online, with photos, text, and web exhibitions that will tempt you to click around and explore.
My Public Art Portal makes our work transparent and accessible across Washington State. It allows anyone, anywhere to look up a public artwork and learn more about it and the artist. Partner sites and agencies use My Public Art Portal as a reference and inventory tool. ArtsWA staff use My Public Art Portal to access information and visuals about the Collection when they are working in the field—maintaining and repairing artworks or bringing new artwork into the Collection. Our peers working in local government and public art around the country use My Public Art Portal as an example of all that an online collection can be.
My Public Art Portal presents the geographically widespread State Art Collection as a whole, in one place: online. It showcases the Collection with over 100 web exhibitions that provide different perspectives on the Collection. For Veterans Day 2021, we highlighted artists who are veterans in Veterans and Washington's Coastal Scenery. We celebrated the Collection's diversity of artists with web exhibitions highlighting Asian American and Pacific Islander Artists, Black Artists, Hispanic Artists, and Native American Artists. In January 2022, we presented tigers and big cats—and some small cats who think they are big cats—for the Year of the Tiger. In June, we featured queer joy, self-image, and a dash of humor in Queer Feelings: A Pride Exhibition.
We added 99 new artworks to the Collection and the Portal this past year! These included three curated collections at North Hill Elementary in Des Moines (July 2021), Virginia Grainger Elementary in Okanogan (August 2021), and Foothills Elementary in Buckley (October 2021).
ArtsWA Art in Public Places is also on Instagram at @artswapublicart.
Click here to view the State Art Collection.
If you are interested in guest curating a web exhibition, please email us at collections@arts.wa.gov.
Whim W'Him dancer Kyle Sangil in Maurya Kerr's work Rosas. Photo by Jim Coleman for Whim W'Him.
ArtsWA grants focus on cultural equity, expand the creative economy, and support arts participation. We help organizations foster creative experiences with and for their communities.
In FY22, GTO provided pandemic relief in the form of general operating support for small, mid-sized, and large organizations. Creative engagement has proved itself to be a buoy throughout the pandemic to individuals and communities across Washington state, yet arts & culture organizations have suffered some of the greatest economic losses and have struggled in their re-opening phases. FY22 grants sought to support the arts & culture organizations that have provided refuge and joy to their community throughout the pandemic.
FY22 grants aimed to ensure that all people can engage in creative and communal experiences. Grants fund projects, programs, and services that span artistic disciplines, cultures, cultural relevance, and traditions. ArtsWA-funded programs represent a public investment and commitment to ensure cultural vitality for communities and opportunities for arts professionals across the state.
GTO awarded 428 grants in FY22, distributing $1,825,560 in funding total. $386,210 was provided by the National Endowment for the Arts, $540,250 was funded by Federal American Rescue Plan Act (ARPA), and $900,000 was provided by WA State ARPA funds. Grants reached 29 counties across the state and funded staff salaries, paid artists, and supported general operations that kept organizations afloat through difficult financial times.
In FY23, GTO grants will focus on supporting groups and organizations that provide arts programming to their community as members emerge from the social isolation of the pandemic. Grants will also focus on new and emerging arts groups to increase capacity-building, particularly groups that are led by and support communities that are not fully or authentically represented in their region.
"We usually make all our money by getting fans in the seats. Covid 19 made that impossible for quite a while. This grant literally helped us keep the lights on while we waited for the gather bans to be lifted.
Having your funds helped all the volunteer hours possible and our community has renewed interest in the performing arts. We have gotten several new members and lots of fans to fill our seats."
– Emily Popovich, Willapa Players, Pacific County
428
Grants funded in FY 2022

$1,825,560
Total amount distributed
3,413,515
Total Washingtonians served by grants
51%
Grantees from outside King County
Metal work class using tools at Coyote Central. Photo by Jess Schwab.
The Arts in Education (AIE) program supports accessible and culturally relevant arts instruction as a fundamental part of basic education for every student in Washington State.
During the 2021-2022 school year, ArtsWA's AIE team continued to innovate in response to pandemic-related challenges. AIE programs required flexibility and innovation as many students returned to in-person classrooms in the Fall of 2021. The AIE program directly supported imaginative adjustment in online, hybrid, and in-person arts programming across the state. We engaged with 21 different WA state counties through partnerships with schools and community organizations in service of student learning in and through the arts.
As written in ArtsWA's 2022-2027 strategic plan, the Arts in Education Program goal is to "Support Statewide Access to Arts Education for all PreK-12 Students" by:
Fostering collaboration within the arts education landscape
Expanding learning opportunities for educators working to close the opportunity gap
Strengthening youth, educator, and family civic engagement with the arts and cultural sector
Ensuring arts learning is accessible to all PreK-12 students in Washington State
Elevating the role of arts education in Washington State through Data, Research, and Accountability
AIE Programs 
–  Arts in Education Partnership Grants (PreK-12)
–  Creative Start Grants (Early Learning)
–  Washington State Teaching Artist Training Lab
    (TAT Lab)
–  Poetry Out Loud Program
–  Creative Start Studio and Arts Uplift! Conference
–  WA Youth Arts Leadership (WAYAL) Pilot Program
    (Youth ages 16-19)
–  The Arts for All Coalition
   (AIE Statewide Collective Impact)
Encouraging innovation in early learning through the arts.
Creative Start supports and expands arts integration efforts in early learning (preschool through 3rd grade) communities. It aims to bridge the opportunity gap for Washington's youngest learners. Creative Start programming includes grants, professional learning opportunities, and resource development to support students, teachers, and families.
During the 2021-2022 school year, Creative Start Grants supported arts integration projects that reached 6,000 early learners. Projects encouraged innovation in teacher practice, community connections, and joyful learning. They involved 1,100 early learning educators, and worked with 50 different teaching artists.
Arts Uplift!: Arts, Culture, and SEL in PreK-Grade 3
Creative Start partnered with the Office of Superintendent of Public Instruction (OSPI) and TAT Lab to present a 3-day virtual conference called Arts Uplift! In August 2021. 200 attendees and 11 presenters gathered virtually to celebrate joyful learning, wellness, and creative possibilities for early learning communities. The conference provided attending early learning educators, teaching artists, and leadership with more tools to integrate arts instruction, culturally responsive teaching methods, and Social Emotional Learning (SEL) frameworks into their daily work. Planning is in the works to make Arts Uplift an annual event.
Creative Start Studio
Two animated videos defining 'arts integration' and 'teaching artist' were added to the resources on the Creative Start Studio webpage. Our team collaborated with 12 different Washington-based artists from concept development to final production. The goal of the Creative Start Studio is to provide accessible arts integration ideas and resources for educators, parents, families, and caregivers of early learners.
Poetry Out Loud (POL), is a national poetry recitation contest for high school students sponsored by the National Endowment for the Arts and the Poetry Foundation and produced in this state by the Washington State Arts Commission. POL elevates and celebrates the literary arts as an essential part of Art Learning inside and outside the school day.
Poetry Out Loud continued to make participating as accessible as possible for students and educators. "POL Virtual" was piloted as an opportunity for students who attend schools that do not participate in the program, including homeschooled students. The State Final competition was held in a limited-access virtual session on March 12 and was released on YouTube March 18, 2022. The State Final included 9 regional champions (including the first ever POL Virtual champion). The event was emceed by Seattle's youth poet laureate, Zinnia Hansen, and included music presented by the Kareem Kandi World Orchestra.
Washington State 2022 Poetry Out Loud State Champion
Lucy Shainin, a senior at Anacortes High School in Skagit County, is the 2022 Poetry Out Loud Washington State Champion. She joins BreAnna Jones from West Valley High School in Yakima (2008-2010), and Langston Ward from Mead High School in Spokane (2012-2013) as the third student in 17 years to repeat as champion. Rising to the top from a competitive field of over 10,000 students from 38 schools across the state, Shainin was among the 9 high school students—all regional Poetry Out Loud champions—who competed in the State Final. Shainin's poems included They Are Hostile Nations by Margaret Atwood and Say not the Struggle nought Availeth by Arthur Hugh Clough, with This is the Honey by Mahogany L. Browne as the final recitation.
POL Partners (2021–2022):
Educational Service District (ESD) 112
Spokane Arts
Yakima Valley College
Skagit River Poetry Foundation
Tacoma Little Theatre
Teaching Artist Training Lab (TAT Lab)
TAT Lab provides workshops, resources, and mentorship to arts educators across Washington State.
TAT Lab (Washington State Teaching Artist Training Lab) is a statewide community of teaching artists, arts specialists, youth arts providers, and certified classroom teachers committed to teaching and learning through the arts. In the 2021-2022 year, 18 participants completed the virtual TAT Lab Core program.
Participants noted the learning community experience and the focus on social justice as the experience highlight. Survey comments emphasized communal learning, shared wisdom, and opportunities to receive feedback from peers as highly valuable.
100% of participants agree that they have gained resources to improve upon their teaching artist practice as a result of TAT Lab.
100% of participants agree that they are completing TAT Lab with motivation to explore their own biases when working with diverse populations.
92% of participants agree that TAT Lab has helped them gain skills and knowledge to support their practice as a teaching artist.
Village Theatre in Issaquah is lit up for the holidays in the heart of the Issaquah Creative District. Photo courtesy City of Issaquah.
The Creative Districts program helps communities turn arts and culture into economic opportunities. The program expanded in FY 2022, serving twelve communities across the state.
The Creative Districts program continued its steady expansion during FY 22. Four new districts were certified this year – Rainier Valley, Bainbridge, South Columbia (Kennewick) and Moses Lake. Washington State now has twelve districts, located in almost every corner of the state. In addition, several new communities are pursuing certification, including Burien, which is on track to be certified near the beginning of FY 23.
The Creative Districts spent the year working to move their communities forward after the devastation of the early pandemic. In Bainbridge, they worked to bring a new community event, the Bridge Festival, which will be the signature annual event for their Creative District. In Twisp, the Methow Arts Festival reopened. In Chewelah, they launched a monthly art walk, and a mural tour. In Port Townsend, the district is working on developing an Arts and Culture Plan for the city. This plan will guide the direction of their creative economy for the future.
As a result of our successful Creative District Capital Project (CDCP) pilot program in FY 21, the Legislature allocated additional funding for the FY 22-24 biennium. The CDCP program provides small-scale grants to districts to design and install built environment projects in public spaces. Districts are required to apply for the grants. They must submit project plans and certify matching funds to be considered eligible. ArtsWA increased the size of the grants from approximately $25,000 to $40,000 per district. All eight districts that received funding in the previous fiscal year were provided 'back-fill' grants to ensure equity with their newer peers. Currently, all twelve districts are working on projects to be completed before the end of the biennium.
There is … consensus that the Creative District should be an agent of connectivity and a resource … that bridges gaps between artists and arts organizations, city/county regulatory processes, building owners and landlords, leading to mutually beneficial opportunities that span each industry sector.  – Olympia Creative District
Wellness, Arts and the Military
MusicWorks4Veterans is a member of the WAM cohort. Veteran and MW4V project manager John Selzer has been using the power of music to bring music to veterans being treated at VA locations and veteran residential facilities in the state of Washington.
The Wellness, Arts, and the Military (WAM) program supports service members, veterans, and their families (SMVF). WAM provides grants to support art organizations that serve the SMVF Population and individual SMVF artists within Washington State.
Started in approximately 2017, the WAM Program began as a Community Connections Project supported by the NEA Creative Forces Military Healing Art Network. This grant allowed WAM to build a cohort of military-connected arts organizations in the South Sound area through summits, convenings, and partnerships.
In FY22, the Washington State Legislature fully funded the WAM Program by providing a $1,500,000 annual budget to build and grow the program into a statewide grants program. ArtsWA began its search for the program manager toward the end of FY 22. Their tenure will begin in July 2022. This position and program is the only one of its kind nationwide.
Center for Washington Cultural Traditions
Theary Ngeth and her chili oil, MaTaess. Photo by Kelli Faryar.
"Preparing unique classes for Sandra, gave me the opportunity to look into myself and 're-learn' everything that I knew. Made me start to ask questions about what I know, what I would like to teach for Sandra that will help in her development as a future teacher in this cultural art." Silvio Dos Reis (Master Artist, capoeira)
The Center for Washington Cultural Traditions (CWCT) is a partnership with Humanities Washington that serves as the state folklife program and the state's NEA folk and traditional arts partner.
Just as Washington moved from recovery to reinvention, so has the CWCT. As the former Director transitioned to work in academia, the CWCT hired Thomas Grant Richardson, Ph.D. as its new Director near the end of FY22. A dedicated grants and outreach manager joined the CWCT staff from Humanities Washington.
Two CWCT signature programs, The Heritage Arts Apprentice Program (HAAP) and the Cultural Traditions Survey (the "Survey") continued to grow as people began moving about the state once again.
The HAAP program funded 16 teams across the state, covering traditions such as Indigenous weaving, Afro-Brazilian capoeira, and various South Asian traditional arts.
The Survey continued with a focus on Washington foodways, including many immigrant traditions. This research is currently part of regional and national efforts to highlight traditional foodways.
In addition to these stalwart programs the CWCT participated in the NEH's "A More Perfect Union" initiative to document oral histories and interviews with communities historically underserved by American democracy. The interviews focused on Latinx communities in Wenatchee, LGBTQ+ communities in Tri-Cities, and African American communities in Seattle and Tacoma. These interviews will result in a podcast series.
The HAAP program funded 16 teams with a deep impact for its masters and apprentices. The Survey documented the stories and traditions of another two dozen Washingtonians. A More Perfect Union added an additional three dozen interviews from underrepresented communities across the state.
Washington State Poet Laureate
Rena Priest, an American Book Award-winning poet and member of Lhaq'temish (Lummi) Nation, is the first indigenous poet to hold the position of Washington State Poet Laureate. Photo from the FY22 Poetry and Civic Life event.
Rena Priest, Washington State's sixth Poet Laureate, entered the second year of her term in FY 22. A member of the Lhaq'temish (Lummi) Nation, Priest is the first Indigenous poet to be the state's Poet Laureate. Priest's term will run until March 31, 2023.
The Washington State Poet Laureate program was established in 2007. It is a collaboration between ArtsWA and Humanities Washington. In FY 22, the two organizations were successful in securing additional funds for the program from the Legislature. These funds are designated for program administrative costs and activities, and an annual honorarium for the Poet Laureate. The honorarium is $40,000 annually, which is comparable to the U.S. Poet Laureate.
Since becoming Laureate, Priest has visited many communities across the state. She has given readings, led workshops, participated in ceremonies, and more. Priest is steadfast in the face of pandemic challenges and has set an impressive pace of events throughout Washington.
Click here to learn more about the Washington State Poet Laureate.
"She did an amazing job connecting with a group of young women who are interested in pursuing a career in writing, filmmaking or other forms of artistic expression. As these young women consider their future possibilities, they were inspired by someone who took this path and has made such a great impact!"

– Workshop attendee, Native Action Network
Governor's Arts & Heritage Awards
The 2021 Governor's Arts & Heritage Awards (GAHA) Luminary Awards were presented on January 13, 2022. The Luminary Awards honor and reflect the experiences of the arts and culture sector during the COVID-19 pandemic.
The 2021 Governor's Arts & Heritage Awards (GAHA) premiered online on January 13, 2021. We cancelled the in-person ceremony because of health and safety concerns. We named the 2021 awards the Luminary Awards to honor those who stood as shining lights during the darkness of the pandemic. We presented Luminary Awards to one individual and one organization in each of the four ArtsWA-identified regions of the state. Governor Inslee then selected an individual for the Governor's Spotlight award. Central Washington did not receive nominations for an individual. The 2021 Luminary honorees were:
Southwest Region | Organization – Asia Pacific Cultural Center
Southwest Region | Individual – Douglas Orr
Central Region | Organization – Gallery One
Eastern Region | Organization – Spokane Valley Summer Theatre
Eastern Region | Individual – Jeremy Whittington
Northwest Region | Organization – Path with Art
Northwest Region | Individual – Akuyea Karen Vargas
While we wish we could have celebrated in-person, the virtual presentation was a necessary alternative. It was also a huge success. Hundreds of Washingtonians tuned in to the virtual presentation. It now has over one thousand views.
We congratulate once more the 2021 Luminary Award honorees for their courage and vision.
Click here to watch the virtual presentation.
Change Leader Institute participants learn how to support and affect change in their organizations and communities.
ArtsWA launched its professional development course, Change Leader Institute, in FY 22. The program is designed to support artists, arts administrators and others in the arts and culture sector to become leaders in their communities or organizations. Each training session has twelve participants that come together for hands-on learning, using a 'learn by doing' approach. The curriculum focuses on lessons and techniques that help attendees understand themselves and their approach to change.
ArtsWA worked with colleagues from Utah Division of Arts and Museums, where the program originated, to develop curriculum. Prospective attendees must apply to be considered. Each cohort is selected to ensure equity and organizational and geographic equity. The inaugural cohort began in October 2021. ArtsWA plans to host three or four cohorts per year, in addition to an annual convening of members of the Change Leader network. The purpose is to create a statewide network of leaders who can collaborate on projects and share ideas.
Agency Initiatives and Outreach
ArtsWA launched two important new efforts in FY22 in additional to its program activities. The 2022-2027 Strategic Plan is ArtsWA's blueprint for the next five years. This plan was published in June 2022. ArtsWA did outreach and held public feedback sessions throughout early 2022 to collect constituent input. Creative State is a free podcast that features interviews with creative professionals across Washington State. Its first episode was released in April 2022. ArtsWA conducts outreach into communities to identify guest speakers and promote the podcast.
ArtsWA went through a thorough and inclusive process during FY22 to develop a 2022-2027 Strategic Plan. The agency worked with the National Assembly of State Arts Agencies (NASAA) and Confluence Consulting Northwest. Staff and commissioners drew on their professional values to align the plan with their work and vision.
Feedback from constituents was critical to understand the creative sector's needs. The feedback process began with an extensive survey built and distributed by NASAA. The survey gathered insight from constituents about ArtsWA's role and how the agency can support them. Data from this survey framed the direction and refined the focus of the strategic plan. The consultants guided ArtsWA through the SOAR (Strengths, Opportunities, Aspirations, Results) framework to identify four key areas of focus: Equity, Impact, Practice, and Programs. The consultants held a series of regional focus groups to unveil the four focus areas to the public. They facilitated discussion about each focus area to ensure they spoke to constituents' needs.
The five-year plan reflects the needs and ambitions of ArtsWA and its constituents. It builds on the spirit of the last strategic plan while recognizing changes in both the agency and Washington State.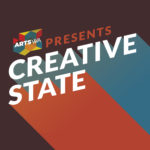 ArtsWA launched a podcast in FY22 called Creative State. Launched in April 2022, each monthly episode of Creative State features:
an interview with a Governor's Arts & Heritage honoree
an interview with an ArtsWA Program Manager
a Wellness, Arts, and the Military Program segment
additional guests from Washington's creative economy
In its first season, Creative State has interviewed a teaching artist, a documentary filmmaker, the Washington State Poet Laureate, and more. The podcast is ad-free and is presented at no cost to listeners. Creative State is produced by the Communications team with support from the Wellness, Arts, and the Military team.
Thanks to the support of the Governor, Legislature, and the National Endowment for the Arts (NEA), ArtsWA's budget remains healthy. The agency's budget grew significantly from the previous fiscal year, primarily due to federal COVID-19 relief funds.
| | |
| --- | --- |
| 3,308,752 | Capital construction funds (Art in Public Places program) |
| 170,000 | Capital construction funds (Creative Districts program) |
| 2,760,000 | State General Funds |
| 922,200 | Federal Funds (NEA Partnership Grant) |
| 857,100 | NEA American Rescue Plan Act Funds |
| 85,583 | Corporate Sponsorship, Grants & Donations |
| 8,400 | Industrial Iinsurance Refund |
| 1,000,000 | Cares Act Funding (Coronavirus State Fiscal Recovery Fund) |
| 857,100 | ARPA Funds |
| 9,112,035 | Total Funding for FY22 |
| | |
| --- | --- |
| 2,727,646 | AIPP Artwork Acquisition and Collection Care (w/o salaries and benefits) |
| 1,511,720 | Salaries |
| 527,185 | Benefits |
| 2,890,775 | Grants |
| 787,584 | Goods and Services |
| 238,342 | Contracts |
| 7,419 | Travel |
| 2,090 | Capital Projects |
| 8,692,761 | Total Expenses for FY21 |