Search the Collection: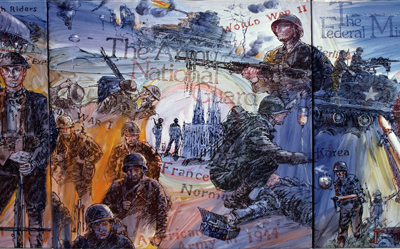 Artwork copyright John Killmaster. Photo courtesy of the artist (detail).
Military Locations
You can find artworks from the State Art Collection at a handful of armories, readiness centers, veterans homes, and other buildings related to the military in Washington State. These public buildings are located across Washington State: in Spokane, Walla Walla, Yakima, Ephrata, Lakewood, Port Orchard, Bremerton, and Montesano. For each of these sites, the artworks were selected by a locally formed committee. The artworks range widely in materials, style, and content.
The Art in Public Places (AIPP) program facilitates the acquisition, placement, and stewardship of artwork in state-funded building projects throughout Washington. And this includes some military buildings. The Washington State Legislature established the AIPP program in 1974 to acquire artwork for K-12 public schools, colleges, universities, and state agencies, funded by ½ of 1 percent of the state's portion of construction costs. Today, the State Art Collection includes more than 5,000 artworks that are located where people study, work, and live. ArtsWA acts as administrator and caretaker of the State Art Collection—an incredibly diverse group of artworks that connects Washington's communities.
Some of these artworks may be located in areas not accessible to the general public. If you would like to see any of these artworks in person, we recommend contacting the site before you visit.
Washington's State Art Collection also includes several artists who are veterans.
Read Less
Read More →