Search the Collection: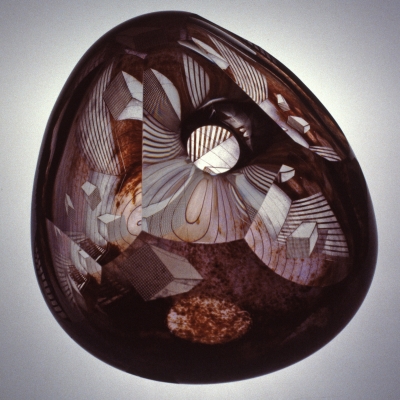 Artwork copyright David Schwarz. Photo courtesy of the artist.
Glass Art and the Pacific Northwest
Washington State is home to more than 700 glass artists and over 100 glass art studios.
Pilchuck Glass School and the Pratts Fine Art Center were Washington's first glass schools and are both important to glass art in the Pacific Northwest. Pilchuck Glass School was started in 1971, when artist Dale Chihuly convinced Seattle art patrons John Hauberg and Anne Gould Hauberg to let him to hold a glass workshop on their tree farm in Stanwood, Northwestern Washington. The Pratt Fine Arts Center opened in Seattle in 1976 with glassblowing classes and a hot shop. By the early 1990s, the Northwest had become an important center for glass. In 2002, the Museum of Glass opened its doors in Tacoma with local glass artists working and demonstrating in the hot shop daily.
Washington's State Art Collection has been adding glass artworks to its collection since 1975. We have over 300 glass artworks that range from blown and cast glass objects, to stained glass windows, to site-specific installations.
For glass mosaics, see the Mosaic Artworks web exhibition.
Read Less
Read More →