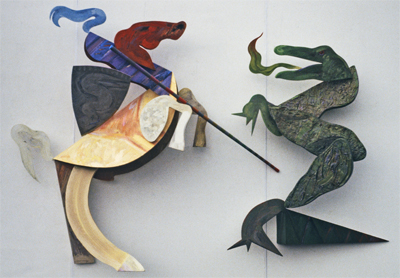 Artwork copyright Ron Hinson. Photo courtesy of the artist.
St. George and the Dragon,
1988
Ron Hinson

(American, born 1934, died 2019)
Location:
Artz-Fox Elementary School, Mabton
ABOUT THE ARTWORK
St. George and the Dragon is an example of the late artist Ron Hinson's three-dimensional paintings that explore color relationships, texture, surface, and form. The title and imagery in this artwork reference a myth that was represented in art of the European Renaissance (1400-1700). Hinson noted "Unlike most versions, this one is meant to convey a playful feeling and could be thought of as a parody of heroic conflict."
This artwork was acquired for the State Art Collection in partnership with Mabton School District.
ABOUT THE ARTIST
Late Olympia, Washington-based artist and teacher Ron Hinson created abstract, three-dimensional painted constructions.
Born and raised in Ohio, Hinson graduated from Miami University in Oxford, Ohio. He worked in advertising in New York City before moving to the Pacific Northwest. He taught at South Puget Sound Community College and The Evergreen State College, both in Olympia, Western Washington.
ARTWORK DETAILS
| | |
| --- | --- |
| Medium | Acrylic on Masonite, wood, and plaster |
| Dimensions | 5 ft 3 in x 7 ft 10 in x 21 in |
| ID Number | WSAC1991.188.000 |
| Acquisition Method | Direct purchase |
| Artist Location | Washington, United States |
Location Information
Agency
Mabton School District
Artwork Location
Artz-Fox Elementary School
Library
WA County
Yakima
Placement
Interior
Site Type
Public School
Address
805 Washington Street
Mabton, WA 98935
Geo. Coordinates
46.215101 | -119.990211
Before Visiting
Some artworks may be located in areas not accessible to the general public (especially in K-12 public schools). Consider contacting the site prior to a visit to ensure access.
Map




Menu