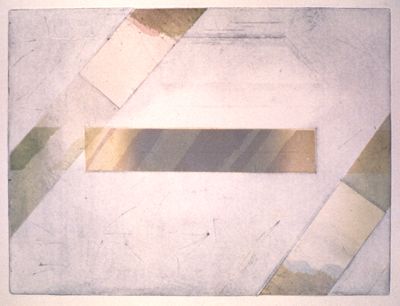 Artwork copyright Norie Sato. Photo courtesy of the artist.
Video Retrace,
1978
Norie Sato

(American, born 1949)
ABOUT THE ARTWORK
The abstract print Video Retrace was created by artist Norie Sato. The geometric composition explores variations in values of light and dark to imply layers and depth.
This artwork was acquired for the State Art Collection in partnership with Washington State University.
ABOUT THE ARTIST
Seattle-based artist Norie Sato has worked in printmaking, video, sculpture, and glass. Her long career includes many site-specific installations that interact with their environment. Many of her public art projects involve urban planning and design, and collaboration with architects.
Sato moved to Seattle in 1972 to study and earned her Master of Fine Arts degree in printmaking from the University of Washington. She was honored with a Washington State Governor's Arts and Heritage Award in 2014. She received the 2013 Twining Humber Award for lifetime artistic achievement and the 1997 George Tsutakawa Award for Advancement of Public Art, among many other awards.
ARTWORK DETAILS
| | |
| --- | --- |
| Medium | Mixed media print |
| Dimensions | 20 in x 30 in |
| ID Number | WSAC1981.010.000 |
| Acquisition Method | Direct purchase |
| Artist Location | Washington, United States |
Location Information
Agency
Community Colleges of Spokane
Artwork Location
Spokane Falls Community College
Warren G. Magnuson Building, 1st floor, by room 102
WA County
Spokane
Placement
Interior
Site Type
College
Address
3410 W Fort George Wright Drive
Spokane, WA 99224
Geo. Coordinates
47.675975, -117.456702
Before Visiting
Some artworks may be located in areas not accessible to the general public (especially in K-12 public schools). Consider contacting the site prior to a visit to ensure access.
Map