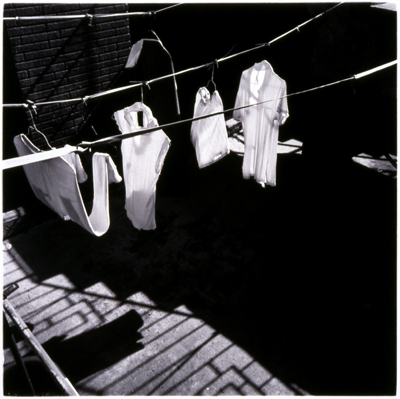 Artwork copyright Kenneth Allison. Photo courtesy of the artist.
Chinatown Clothes,
1995
Location:
Glenridge Elementary, Kent
ABOUT THE ARTWORK
Chinatown Clothes is part of a series of photographs by artist Kenneth Allison that explore immigrant communities in Chicago. With this body of work, Allison seeks to "show, appreciate, and honor the way new people are enriching and enlivening the texture of the old urban neighborhoods."
This artwork was acquired for the State Art Collection in partnership with Kent School District.
ABOUT THE ARTIST
Seattle-based artist Kenneth Allison works as a street photographer to capture the meaning and beauty of public spaces and urban environments.
ARTWORK DETAILS
| | |
| --- | --- |
| Material Category | Work on paper - photograph |
| Medium | Gelatin silver print |
| Dimensions | 14 3/4 in x 14 3/4 in |
| ID Number | WSAC1999.002.000 |
| Acquisition Method | Direct purchase |
| Artist Location | Washington, United States |
Location Information
Agency
Kent School District
Artwork Location
Glenridge Elementary
Main hall, next to conference room B
WA County
King
Placement
Interior
Site Type
Public School
Address
19405 120th Ave SE
Kent, WA 98058
Geo. Coordinates
47.428276 | -122.182903
Before Visiting
Some artworks may be located in areas not accessible to the general public (especially in K-12 public schools). Consider contacting the site prior to a visit to ensure access.
Map




Menu