Search the Collection: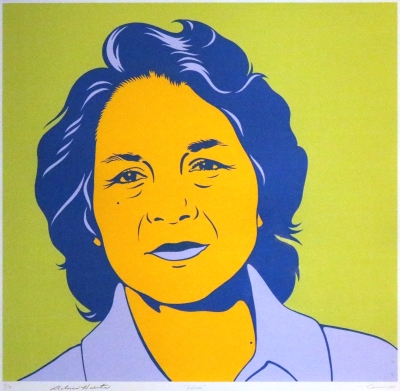 Artwork copyright Barbara Carrasco. Photo courtesy of Washington State Arts Commission, 2016.
Celebrating Dolores Huerta Day
April 10 is Dolores Huerta Day, and it is also her birthday (born in 1930). Dolores Huerta has spent her entire adult life working to advance the rights of farm workers and empower women.
She is a feminist, labor leader, and civil rights activist who co-founded what would become United Farm Workers with Cesar Chavez. In 1965, Huerta and Chavez led a historic boycott and strike against the grape industry demanding better wages and working conditions for farm workers. The strike lasted more than five years. In the end, grape growers signed union contracts and agreed to give workers better pay, benefits, and protections.
In 2012, President Barack Obama acknowledged Huerta for her role in the creation of his "Yes, We Can" slogan during his first presidential campaign. Her "Sí, Se Puede" rallying cry was part of the farmworkers' movement.
This is only the second time that the Washington State Legislature has designated a day in statute honoring a woman. The first was in 1999, establishing April 16 as Mother Joseph Day. April 10th is officially be Dolores Huerta Day in Washington State, starting in 2020 (HB1906).
ArtsWA is pleased to honor Dolores Huerta Day with this selection of artworks in Washington's State Art Collection. These artworks respond to the issues and topics that are the legacy of Dolores Huerta's work: stories of farm workers, immigrants, and women as leaders, and the common themes of hard work, equality, perseverance, and resilience.
Read Less
Read More →