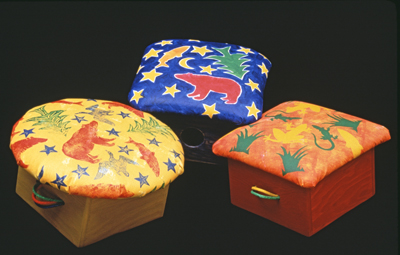 Artwork copyright Constance Parker Miller. Photo courtesy of the artist.
Kids' Story Stools,
1995
ABOUT THE ARTWORK
'Kids' Story Stools' are a set of three colorful upholstered seats created by artist Constance Parker Miller. She painted each cushion with vibrant designs, including images that spark the imagination. She notes, "I designed these story stools to be a very special place for children to sit… As in all of my work, I wanted to make a stool that would last and support the magic of stories for generations of children."
This artwork was acquired for the State Art Collection in partnership with Riverside School District.
ABOUT THE ARTIST
Northwest artist Constance Parker Miller primarily creates painted canvas floorcloths that explore color, form, and sensation. She calls this medium "a place, a stage, territory, geography, a story board, a game, a vehicle, and a magic carpet." Before developing her visual art practice, Miller pursued a career in theater. She received a Bachelor of Fine Arts degree in acting from Carnegie Mellon University in Pittsburgh, PA.
ARTWORK DETAILS
| | |
| --- | --- |
| Medium | Painted plywood stools with painted upholstered seats |
| Dimensions | Three parts, 6 in x 12 in x 12 in each |
| ID Number | WSAC1996.102.000 |
| Acquisition Method | Direct purchase |
| Artist Location | Washington, United States |
Location Information
Agency
Riverside School District
Artwork Location
Chattaroy Elementary
Library
WA County
Spokane
Placement
Interior
Site Type
Public School
Address
25717 N.Yale Rd.
Chattaroy, WA 99003
Geo. Coordinates
47.892365 | -117.358326
Before Visiting
Some artworks may be located in areas not accessible to the general public (especially in K-12 public schools). Consider contacting the site prior to a visit to ensure access.
Map





Menu