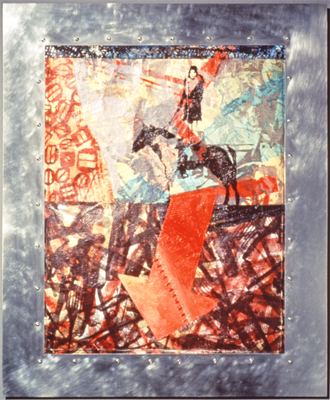 Artwork copyright Wendy Franklund Miller. Photo courtesy of the artist.
Earth Skin #3: Power and Magic,
1993
Location:
Kulshan Middle School, Bellingham
ABOUT THE ARTWORK
Earth Skin #3: Power and Magic is a handmade paper and aluminum assemblage by artist Wendy Franklund Miller. The composition of this piece is inspired by the structure of a quilt, and the contrast of materials references the vulnerability of nature and humanity. Franklund Miller notes that this piece intends to portray "the soft, pliable nature of the earth itself versus the cold, hard, unforgiving slap of machines and chemicals."
This artwork was acquired for the State Art Collection in partnership with Bellingham School District.
ABOUT THE ARTIST
Spokane, Eastern Washington-based artist Wendy Franklund Miller creates artworks using a variety of materials, including artist-made paper, encaustic paintings (made using melted wax), and photography. Her artworks explore a visual language of forms and symbols.
ARTWORK DETAILS
| | |
| --- | --- |
| Material Category | Sculpture - other metals |
| Medium | Artist-made paper and aluminum |
| Dimensions | 27 1/2 in x 21 1/2 in |
| ID Number | WSAC1995.157.000 |
| Acquisition Method | Direct purchase |
| Artist Location | Washington, United States |
Location Information
Agency
Bellingham School District
Artwork Location
Kulshan Middle School
300 Wing, Hallway
WA County
Whatcom
Placement
Interior
Site Type
Public School
Address
1250 Kenoyer Drive
Bellingham, WA 98229
Geo. Coordinates
48.745818 | -122.432842
Before Visiting
Some artworks may be located in areas not accessible to the general public (especially in K-12 public schools). Consider contacting the site prior to a visit to ensure access.
Map




Menu