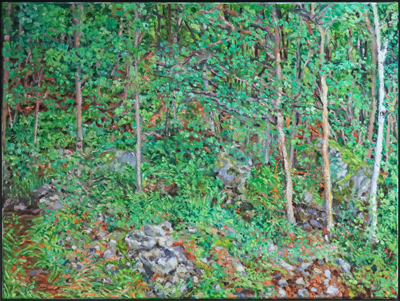 Artwork copyright Cynthia Krieble. Photo courtesy of Washington State Arts Commission, 2016.
Brooks & Trees - Summer,
1987
ABOUT THE ARTWORK
Brooks & Trees - Summer is an impressionistic painting by artist Cynthia Krieble in which a landscape scene is composed using a varied array of colored paint strokes. With this technique, Krieble notes that she is able to convey texture and depth, as well as "the combination of patterns and chaos which occurs in nature."
This artwork was acquired for the State Art Collection in partnership with Lake Washington School District.
ABOUT THE ARTIST
Ellensburg, Central Washington-based artist Cynthia Krieble's impressionistic landscape paintings explore color and sensuality. They are characterized by rhythmic, gestural paint strokes.
Krieble is Professor Emeritus at Central Washington University, where she taught painting and drawing for over twenty years.
ARTWORK DETAILS
| | |
| --- | --- |
| Material Category | Painting - paint on fabric |
| Medium | Oil paint on canvas |
| Dimensions | 18 in x 24 in |
| ID Number | WSAC1995.095.000 |
| Acquisition Method | Direct purchase |
| Artist Location | Washington, United States |
Location Information
Agency
Lake Washington School District
Artwork Location
Emily Dickinson Elementary
Office
WA County
King
Placement
Interior
Site Type
Public School
Address
7300 208th Ave NE
Redmond, WA 98053
Geo. Coordinates
47.669864, -122.060053
Before Visiting
Some artworks may be located in areas not accessible to the general public (especially in K-12 public schools). Consider contacting the site prior to a visit to ensure access.
Map