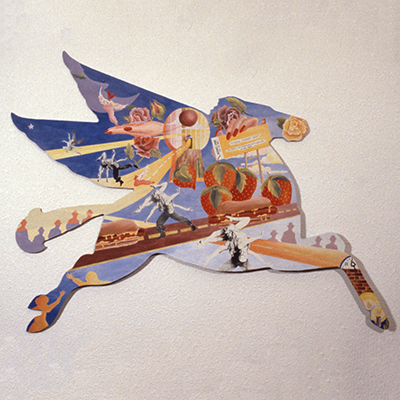 Artwork copyright Cheryll Leo-Gwin. Photo courtesy of the artist.
Your Ticket Out,
1993-94
ABOUT THE ARTWORK
Filled with dream-like imagery, color, and symbols, artist Cheryll Leo-Gwin created Your Ticket Out as part of a series of four winged-horse-shaped steel sculptures that celebrate the imagination. Leo-Gwin notes that her choice of imagery was derived through "stream of consciousness" and contains both beautiful and challenging images. She created this piece as a tribute to her mother, and states: "as in dream, the images are disjointed, time is disjointed, and again, as in a dream, the beginning and end of the experiences are blurred."
The steel shape of the winged horse was a castoff that Leo-Gwin found outside of a porcelain enamel plant. It was previously used to make old gas station sign reproductions.
This artwork was acquired for the State Art Collection in partnership with Ellensburg School District.
ABOUT THE ARTIST
Northwest artist Cheryll Leo-Gwin creates fantastical compositions using a variety of materials including enamel, metal, painting, and digital. Many of her artworks draw on imagery from dreams as well as her Chinese heritage.
ARTWORK DETAILS
| | |
| --- | --- |
| Medium | Porcelain enamel on steel |
| Dimensions | 2 ft 6 in x 3 ft |
| ID Number | WSAC1994.162.000 |
| Acquisition Method | Direct purchase |
| Artist Location | Washington, United States |
Location Information
Agency
Ellensburg School District
Artwork Location
Valley View Elementary
Wall leading to B-pod, main hallway
WA County
Kittitas
Placement
Interior
Site Type
Public School
Address
1508 E Third Avenue
Ellensburg, WA 98926
Geo. Coordinates
46.994087, -120.522350
Before Visiting
Some artworks may be located in areas not accessible to the general public (especially in K-12 public schools). Consider contacting the site prior to a visit to ensure access.
Map