Search the Collection: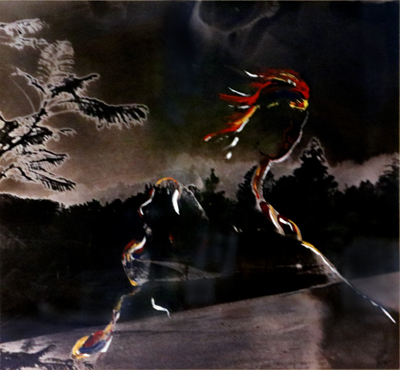 Artwork copyright Onajide Shabaka. Photo courtesy of Washington State Arts Commission, 2016.
Land of Dreams, curated by Jasmine Mahmoud
With the new year in Washington State, many of us wade through rainy weather, cloudy skies, and cold air. Also in January – as a state, and as a nation – we celebrate the birth month of Dr. Martin Luther King, Jr., whose fight for racial justice and equality are synthetized by his foundational "I Have a Dream" speech. Dreams – especially when rendered in art – inspire reflection, whimsicality, and imagination.
In recognition of King's legacy and the power of dreams, this "Land of Dreams" collection of art engages the motif of "dream." Painting, drawing, sculpture, mosaic, collage, and costume comprise the genre of works – where colors often blur, whirl, and layer. Some works draw from the rich topography and transitways of Washington State with its rivers, valleys, deserts, rocky beaches, ferries, and highways. Other works ruminate about the weather, sensorium, and escapism from the interior and collective power of dreaming. Process is also a theme, as many focus on the how dreams inspire the process of making work. As a collection, they show the power of art in Washington State to dream and imagine.
—Curated by Jasmine Mahmoud, ArtsWA Board Member, performance historian, and Assistant Professor in Theatre History and Performance Studies at the University of Washington. (January 2021)
Read Less
Read More →