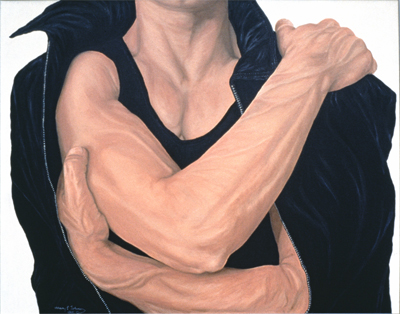 Artwork copyright Mary Cornish-Hicks. Photo courtesy of the artist.
Body Language #2 - Leather,
1990
ABOUT THE ARTWORK
Body Language #2 - Leather is a figurative painting by artist Mary Cornish-Hicks. It is part of her 'Body Language' series that present the human figure without showing the subject's face. Instead, the composition suggests an attitude while leaving its meaning open to the viewer. What does this figure's body language mean to you?
This artwork was acquired for the State Art Collection in partnership with North Franklin School District.
ABOUT THE ARTIST
Virginia-based artist Mary Cornish-Hicks is a native of Washington State. She notes, "My art has always been a constant positive experience throughout my life. If you can satisfy something within yourself, or you can genuinely give others a sense of satisfaction through your art, that's all you can ask of yourself as an artist."
Cornish-Hicks was born in Colfax, Eastern Washington, and grew up in Bremerton on Puget Sound, Western Washington. She studied at the Northwest College of Art.
ARTWORK DETAILS
| | |
| --- | --- |
| Material Category | Painting - paint on fabric |
| Medium | Oil paint on canvas |
| Dimensions | 24 in x 30 in |
| ID Number | WSAC1994.035.000 |
| Acquisition Method | Direct purchase |
| Artist Location | Virginia, United States |
Location Information
Agency
North Franklin School District
Artwork Location
Connell High School
Science Classroom #20
WA County
Franklin
Placement
Interior
Site Type
Public School
Address
1100 W Clark St.
Connell, WA 99326
Geo. Coordinates
46.662945, -118.872683
Before Visiting
Some artworks may be located in areas not accessible to the general public (especially in K-12 public schools). Consider contacting the site prior to a visit to ensure access.
Map