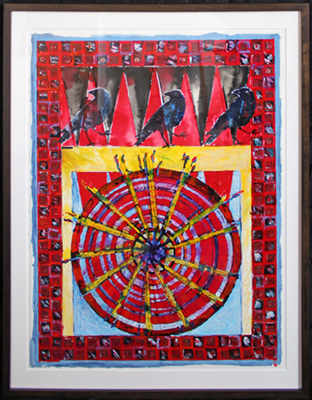 Artwork copyright Jo Fyfe. Photo courtesy of Washington State Arts Commission.
Looking Back,
2001
Jo Fyfe

(American, born 1941)
ABOUT THE ARTWORK
Artist Jo Fyfe's observations of nature inspired her painting Looking Back . She created it as part of a faculty exhibit at Spokane Falls Community College. The composition suggests a spinning wheel or game board like chess or backgammon. She notes, "Crows and ravens have always been in my path from as far North as Alaska, as far South as Arizona and New Mexico, as well as in my own backyard in Spokane. Much has been written in myths and legends from cultures throughout the world. Many portray the crow and the raven as a bird to fear, a trickster or a bearer of misfortune. But, not here, these three are game pieces, like pawns or chessman… It is hoped that as you look at the playfulness of this image and the awkwardness of the birds, that you will chuckle. May it also give you a sense of peace and optimism, knowing that life is a game? This circle is inherent in all of my work; it defines a unity of life for all peoples, past, present and future."
This artwork was acquired for the State Art Collection in partnership with Granite Falls School District.
ABOUT THE ARTIST
Spokane, Eastern Washington-based artist Jo Fyfe explores color, texture, and narrative using a variety of materials and found objects.
Born in Omak, Northeastern Washington, her artworks are influenced by the heritage of Native American cultures of the interior Pacific Northwest.
ARTWORK DETAILS
| | |
| --- | --- |
| Material Category | Work on paper - painting |
| Medium | Acrylic paint and collage on cotton rag paper |
| Dimensions | 30 in x 22 in (sheet) |
| ID Number | WSAC2002.276.000 |
| Acquisition Method | Direct purchase |
| Artist Location | Washington, United States |
Location Information
Agency
Granite Falls School District
Artwork Location
Washington State Arts Commission
Not on display. At ArtsWA pending conservation, framing, re-siting, or return to site.
WA County
Snohomish
Placement
Interior
Site Type
Public School
Address
205 N. Alder Ave
Granite Falls, WA 98252
Geo. Coordinates
48.084897, -121.963515
Before Visiting
Some artworks may be located in areas not accessible to the general public (especially in K-12 public schools). Consider contacting the site prior to a visit to ensure access.
Map