Search the Collection: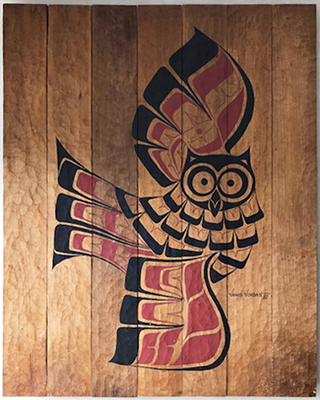 Artwork copyright James Jordan. Photo courtesy of the Washington State Department of Transportation.
Bird is a Verb
"Everyone likes birds. What wild creature is more accessible to our eyes and ears, as close to us and everyone in the world, as universal as a bird?" –David Attenborough, nature historian.
This is definitely true when it comes to birds in Washington's State Art Collection! We have over a hundred artists who have represented birds in their art in some way. And we have over two hundred artworks that are the result of this fascination with birds (hint: simply search our collection for the word "bird").
Birds are symbols of freedom, the human spirit, and the wilderness that we find in our backyards. They are messengers and tricksters. They are the iconic Northwest birds such as the raven and the mythical thunderbird, as well as the visitors who stop in Washington only while migrating to other places. Several of Washington's National Wildlife Refuges are part of the major north-south migratory route known as the "Pacific Flyway" and have inspired our artists.
Here we present a selection of artworks featuring birds in paintings (Lucinda Parker), drawings (Rick Bartow), block prints (Debra Davis), sumi ink (Bill Colby), bronze (Tony Angell), cedar (Andrew Wilbur and Greg Colfax), textiles (Dale Gottlieb), stained glass (Dick Weiss), and many other materials. Each artist is only featured once – click on the artist's name to explore more by that artist.
"The birds wait for no man." –Kenny Bostick, The Big Year.
Read Less
Read More →