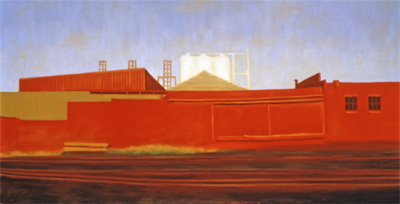 Artwork copyright Mary Iverson. Photo courtesy of the artist.
Red Building with Cranes,
1998
Location:
Sherman Elementary School, Tacoma
ABOUT THE ARTWORK
Red Building with Cranes is part of artist Mary Iverson's body of paintings that explore the form of the industrial crane in an urban landscape. These cranes, used to move shipping containers, are an iconic part of the Seattle coastline. Iverson painted this piece based on studies made on location in the plein air tradition. She notes, "I am a native of Seattle and have shared this city with the container cranes all of my life. The cranes act as spirit animals for me… Part wildlife observation and part spiritual quest, my work reflects my ongoing relationship with this Seattle icon."
This artwork was acquired for the State Art Collection in partnership with Tacoma School District.
ABOUT THE ARTIST
Mary Iverson's paintings explore the balance between the natural world and industrial activities. They inspire conversations about the causes and consequences of climate change. Her main sources of inspiration are close to her home: the beautiful Port of Seattle, and three magnificent National Parks (Mount Rainier, Olympic, and North Cascades National Parks).
Iverson lives and works in Seattle, Washington. She teaches visual art at Skagit Valley College in Mount Vernon, Northwestern Washington.
ARTWORK DETAILS
| | |
| --- | --- |
| Material Category | Painting - paint on fabric |
| Medium | Oil paint on canvas |
| Dimensions | 2 ft x 4 ft x 1 in |
| ID Number | WSAC2001.033.000 |
| Acquisition Method | Direct purchase |
| Artist Location | Washington, United States |
Location Information
Agency
Tacoma Public Schools
Artwork Location
Sherman Elementary School
Library
WA County
Pierce
Placement
Interior
Site Type
Public School
Address
4415 N 38th St
Tacoma, WA 984075613
Geo. Coordinates
47.283583 | -122.497105
Before Visiting
Some artworks may be located in areas not accessible to the general public (especially in K-12 public schools). Consider contacting the site prior to a visit to ensure access.
Map





Menu