Search the Collection: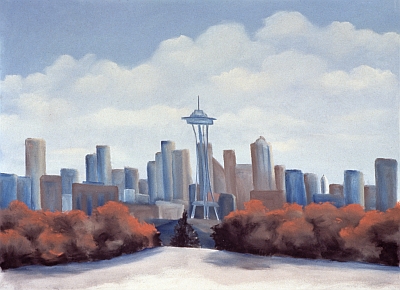 Artwork copyright Mindi Katzman. Photo courtesy of the artist.
Seattle, The Emerald City
This brings together artworks by a variety of artists that are showing different sides of the city of Seattle. A theme definitely emerges: we see water, bridges, ferries, shipyards, the port, construction, roads, the hilly city, and more water. Seattle is a seaport city and the largest city in both Washington state and the Pacific Northwest region. From the 1980s to the present, it has also been one of the fastest-growing cities in the U.S. and we see elements of that growth in these artworks.
The Seattle area was home to Native Americans for at least 4,000 years before the first Europeans arrived permanently. In 1852, the city was named "Seattle" in honor of Chief Si'ahl of the local Duwamish and Suquamish tribes.
Read Less
Read More →