Search the Collection: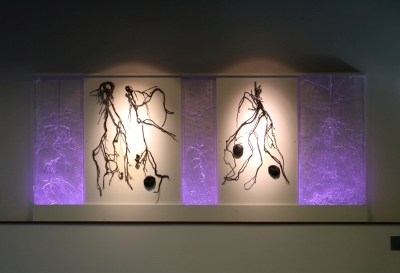 Artwork copyright Valerie Otani. Photo courtesy of Washington State Arts Commission, 2017.
Art by Asian American, Native Hawaiian, and Pacific Islander American Artists
These artists in Washington's State Art Collection share an Asian or Pacific Islander heritage. That grouping covers about 20% of the world's land and a huge variety of cultures and traditions. These artists are both Americans and American immigrants (and one Chinese-born Canadian). They are first, second, and more generations from their immigrant families from Japan, China, Korea, Vietnam, India, Hawaii, and other places. Their ethnicity is often—but not always—an important theme in their art.
These artists identify as Asian American or Pacific Islander artists and as American artists. They include artists such as: Gerald Tsutakawa whose sculptures are a "confluence of cultures and traditions of the Pacific Rim." Roger Shimomura whose art investigates identities and stereotypes as a person who was born and raised in the U.S., is Asian American, and sees himself as an American artist. Aki Sogabe and Lauren Iida who use traditional Japanese cut paper techniques. Lucy Liu who creates traditional Chinese brush paintings and calligraphy. Dean Wong whose photographs focus on Asian American communities. Nikita Ares who creates abstract paintings.
You might see Asian or Pacific Islander influences in these artists' content, styles, and techniques but you also might not. Asian art has been an important influence in the Northwest for many decades, since the first Chinese and Japanese immigrants arrived in the Northwest in the late 1800s. The history and cultures represented in these artworks are an important part of the history and cultures of Washington State – the two cannot be easily separated.
Read Less
Read More →