Search the Collection: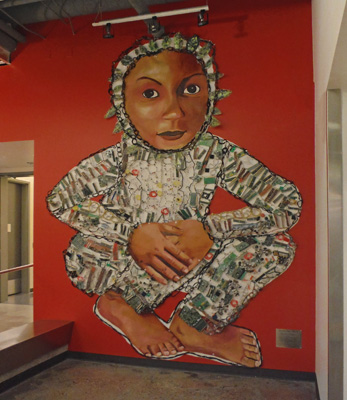 Artwork copyright Marita Dingus. Photo courtesy of Washington State Arts Commission, 2014.
Symbols and Patterns from the African Diaspora, curated by Adetola Abatan
Symbols have historically played a significant role in African languages and cultures. In West Africa, "adinkra" symbols are proverbs that speak of one's place within the cosmos and community, and are used to adorn clothing and jewelry. In North Africa, repeating geometric patterns are used to decorate cookware, homes and public spaces in Tuareg and Berber communities.
This collection of art in Washington's State Art Collection focuses on works that use symbols and patterns to explore multiple layers of Black lives. The artists are either members of the African Diaspora exploring connections to their ancestry, or others who have traveled to the African continent and were moved to incorporate what they had seen in their artistic practice. This black history month, I invite you to look for the symbols and patterns and decipher their complex meanings. What does the art say to you?
—Curated by Adetola Abatan, collage artist, engineer, and Seattle University MFA candidate. (February 2021)
Read Less
Read More →