Search the Collection: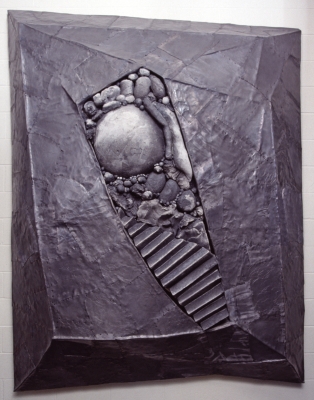 Artwork copyright Mike Taylor. Photo courtesy of the artist.
Black Past/Present
Earl Miller's two graphic prints entered the Collection in 1976. He was an east coast artist who was active with the Spiral Group, a collective of African American artists in 1960s New York City. But he also had a connection to Washington State – like many other artists in the Collection, he was a professor of art at the University of Washington in Seattle.
In 1989, Marita Dingus' soft-sculpture artworks entered the Collection. She is a feminist and environmental artist who grew up in Auburn, Western Washington and still lives and works there. The Collection has several artworks by Dingus, the most recent ones are from 2018. Dingus is joined in the Collection by other Seattle artists such as Barbara Earl Thomas, James Washington Jr. (a long-time Seattleite even though not born here), Frank Video, Monad Elohim, and Sultan Mohamed.
We are lucky to have mini-collections by Clarissa Sligh, Janet Taylor Pickett, and Mildred Howard that are part of the "Who We Are: Autobiographies in Art Collection" curated collection. All of these artworks explore personal histories and communities.
Many of these artists are documenting their communities: Wille Birch in New Orleans, and Los Angeles photographer Dennis Callwood investigating the life of people of African descent in the New World. Photographer Dawoud Bey was commissioned in 2013 to create a project about community for the University of Washington in Tacoma.
In between, there are many artworks by Jacob Lawrence and paintings by Gwen Knight. The couple came to the Northwest when Lawrence accepted a teaching position at the University of Washington and stayed for thirty years.
These artists are painters (Jacob Lawrence, Gwen Knight), abstract artists (Mike Taylor and Violet Fields), printmakers (Clarissa Sligh, Janet Taylor Pickett, Robin Holder), sculptors (Martin Puryear and James Washington Jr.), photographers (Dawoud Bey, Dennis Callwood, Carrie Mae Weems), and more. They work in a variety of materials and techniques. They make art about a wide variety of subjects. They live and work across the United States, but some also have close connections to other places and communities around the world (Christian Michel, Sultan Mohamed). Many of these artists explore personal and community histories, as well as race and social justice, through their art. There is also often a strong connection to storytelling.
All of these artists are also black.
Read Less
Read More →