Search the Collection: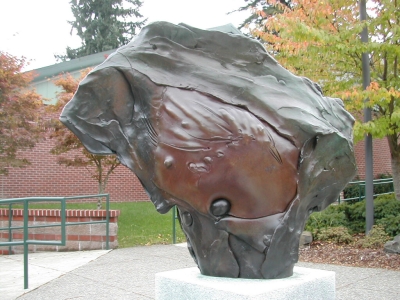 Artwork copyright Frank Boyden. Photo courtesy of Washington State Arts Commission.
Walla Walla Foundry and Mark Anderson: Made in Washington
Washington's own Walla Walla Foundry produces internationally acclaimed artworks and attracts some of the world's best artists. Artworks created at the Walla Walla Foundry are also found in many major collections and museums worldwide.
In honor of Mark Anderson, the foundry's founder and owner, we are featuring several artworks in the State Art Collection that were fabricated at the Walla Walla Foundry. Mark died on November 13, 2019, leaving a legacy of incredible craft, kindness, and dedication to the arts and his community.
Mark's work and the foundry were honored in 1996 with a Washington State Governor's Arts and Heritage Award. Additionally, Mark served on ArtsWA's board as a Governor-appointed Commissioner from 2012-2016. He will be dearly missed by ArtsWA staff and Commissioners.
Read Less
Read More →