Search the Collection: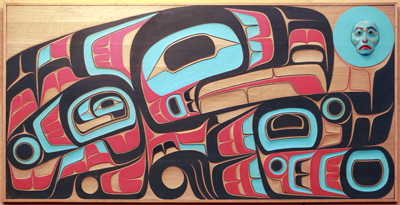 Artwork copyright Marvin Oliver. Photo courtesy of Washington State Arts Commission, 2017.
Marvin Oliver 1946-2019: In Remembrance
Celebrated Native American artist and master carver Marvin Oliver described his art as "formulated by merging the spirit of past traditions with those of the present... to create new horizons for the future." He worked within the traditions of Coastal Salish designs and themes, but he was also an important influence on contemporary Native American art and artists.
Oliver is represented in Washington's State Art Collection by more than twenty artworks (a selection is shown here), ranging from small works on paper to large, commissioned sculptures. Many of these artworks express Oliver's ideas and Native-American stories about life, time, traditions, ancestors, the universe, and his hope for future generations.
Oliver was professor emeritus at the University of Washington and Adjunct Curator of Contemporary Native American Art at the Burke Museum of Natural History and Culture, both in Seattle. His art is also in collections in Canada, Japan, Italy, and across the United States, including at the Smithsonian's National Museum of the American Indian in Washington D.C.
Read Less
Read More →