Search the Collection: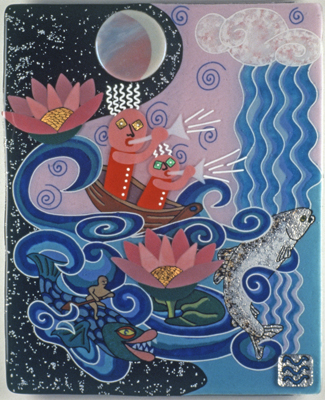 Artwork copyright Richard La Londe. Photo courtesy of the artist.
Deep Dive Continued: Fragile Ecology of the Salish Sea (with the San Juan Islands Museum)
"Deep Dive Continued" is a collection of artworks reflecting the underwater world that surrounds us, a world in which iconic species, like the Orca, are endangered. Their beauty, mystery, and fragility are revealed in the artworks collected here. These Pacific Northwest artists render the stunning, awe-inspiring, underwater life of our Salish Sea and illuminate the threats it faces.
In Richard La Londe's "Water," fused glass sea creatures "celebrate the water of life." As he writes, "This water of life was celebrated and all the animals that lived in it rejoiced." Aleut artist John Hoover writes about his sculpture, "Loon Song," "these different forms search the skies, the depth of the ocean, and the far reaches of the earth." Another sculpture, "Leviathan" by Ellen Stenifeld, represents "the nature and hopefully the ecological balance of the oceans, fish, and plant life." Barbara Black's "Torrent of Dreams" merges the mysterious depths of the sleeping mind with the deepest currents of the ocean in a dark, hypnotic swirl. The delicate cut paper work of Aki Sogabe, in "One Ocean View" and "Night Ocean" combine formal pattern with natural seascapes to create a deeply satisfying blend of stylized form and elegant subject matter.
Each of the artworks reveals a different face of our oceanic world.
–Curated by Lynn Bahrych, San Juan Islands Museum of Art Board Member, as a continuation of the museum's "Deep Dive" gallery exhibition (summer 2019), which highlights the fragile ecology of the Salish Sea as well as its stunning beauty. Lynn's family includes a professional oil painter and amateur artists, like herself, who believe that art is essential.
Read Less
Read More →