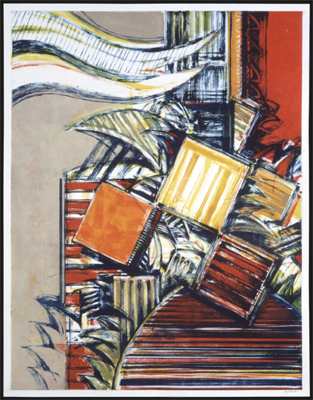 Artwork copyright Kay Rood. Photo courtesy of the artist.
Pile Up I,
1986
Kay Rood

(American, born 1945)
ABOUT THE ARTWORK
Pile Up I is a colorful monotype print created by artist Kay Rood. It features energetic lines and overlapping geometric shapes. It is part of a series of monotypes she dubs "not-so-still-lifes" because they are based on her arrangements of real objects to create an ambiguous, abstract composition.
Monotypes are unique prints made by painting with inks directly onto the printing plate. Only one print can be made from the plate. The image is transferred onto paper using a printing press. Rood refers to monotypes as a "true hybrid process" because it combines elements of painting, drawing, and printmaking.
This artwork was acquired for the State Art Collection in partnership with Clark College.
ABOUT THE ARTIST
Seattle-based artist and framer Kay Rood explores transformation and growth through her paintings and monotype prints. She received a Bachelor of Arts degree from the University of Iowa. She ran a custom framing business specializing in the archival framing of fine art for 35 years.
ARTWORK DETAILS
| | |
| --- | --- |
| Medium | Monotype print and pastel |
| Dimensions | 27 in x 21 in |
| ID Number | WSAC1991.146.000 |
| Acquisition Method | Direct purchase |
| Artist Location | Washington, United States |
Location Information
Agency
Clark College
Artwork Location
Clark College
Hawkins Hall (HKH), faculty hallway across from office #112
WA County
Clark
Placement
Interior
Site Type
College
Address
1933 Fort Vancouver Way
Vancouver, WA 98663
Geo. Coordinates
45.635308 | -122.652959
Before Visiting
Some artworks may be located in areas not accessible to the general public (especially in K-12 public schools). Consider contacting the site prior to a visit to ensure access.
Map




Menu