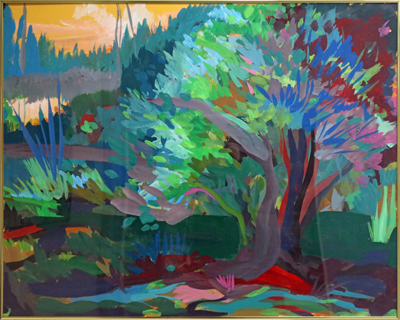 Artwork copyright Bruce Douglas Beal. Photo courtesy of Washington State Arts Commission.
A Dense Growth of Magnificent Trees,
1990
ABOUT THE ARTWORK
A Dense Growth of Magnificent Trees is a vibrantly colorful and expressive landscape painting by artist Bruce Douglas Beal. The imagery is inspired by the Southern American landscape, and the artist fills his studio with references to New Orleans and Elvis Presley. Of the inspiration he finds in the southern environment, Beal notes that "its ambience makes me feel joyous."
This artwork was acquired for the State Art Collection in partnership with Bethel School District.
ABOUT THE ARTIST
Artist Bruce Douglas Beal creates paintings and prints inspired by the landscape of the southern United States. He taught art at Eastern Washington University in Cheney for several decades. He received Bachelor of Fine Arts and Master of Fine Arts degrees from Cranbrook Academy of Art in Michigan in 1966 and 1968, respectively.
ARTWORK DETAILS
| | |
| --- | --- |
| Material Category | Painting - paint on fabric |
| Medium | Acrylic paint on board |
| Dimensions | 32 in x 40 in (overall) |
| ID Number | WSAC1991.156.000 |
| Acquisition Method | Direct purchase |
| Artist Location | Washington, United States |
Location Information
Agency
Bethel School District
Artwork Location
Centennial Elementary
Main hallway outside of Library
WA County
Pierce
Placement
Interior
Site Type
Public School
Address
24323 54th Ave East
Graham, WA 983389549
Geo. Coordinates
47.035702 | -122.356445
Before Visiting
Some artworks may be located in areas not accessible to the general public (especially in K-12 public schools). Consider contacting the site prior to a visit to ensure access.
Map





Menu