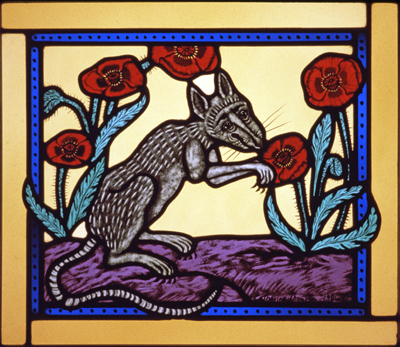 Artwork copyright Cappy Thompson. Photo courtesy of the artist.
Animals of the Chinese Zodiac: Year of the Rat,
1986
Location:
Foothills Elementary, Buckley
ABOUT THE ARTWORK
Animals of the Chinese Zodiac: Year of the Rat is part of artist Cappy Thompson's series of "grisaille" stained glass windows based on Chinese mythology. She notes that "these windows are universal in theme, and there is wit and wisdom in the mythology. Like fables from all over the world, animals have been used as allegories for the human condition, symbols through which we can look at ourselves." Those born in the year of the rat are characterized as honest, hardworking, appealing, and bright.
This artwork was acquired for the State Art Collection in partnership with White River School District.
ABOUT THE ARTIST
Celebrated Seattle-based glass artist Cappy Thompson creates rich "mytho-poetic narratives" in her vibrant and animated stained-glass artworks. Her site-specific installations draw imagery from myths, poetry, and personal expression.
To create her vivid and detailed scenes, Thompson often uses a glass painting technique called "grisaille" where black line drawings are painted on glass, which is then fired in a kiln to make the line drawings permanent. Grisaille has existed since medieval times (approximately 450-1450) and is what you often see in stained glass windows in European churches.
Thompson received a Bachelor of Arts degree from The Evergreen State College, Olympia, Western Washington in 1976. She has taught at art and glass programs around the world from Mexico to Australia to Germany, as well as locally at Pilchuck Glass School in Stanwood, Northwestern Washington, and Pratt Fine Arts Center in Seattle.
ARTWORK DETAILS
| | |
| --- | --- |
| Medium | Painted stained glass |
| Dimensions | 14 in x 16 in |
| ID Number | WSAC1990.251.005 |
| Acquisition Method | Direct purchase |
| Artist Location | Washington, United States |
Location Information
Agency
White River School District
Artwork Location
Foothills Elementary
Main hall and front windows
WA County
Pierce
Placement
Interior
Site Type
Public School
Address
10621 234th Ave East
Buckley, WA 98321
Geo. Coordinates
47.160046 | -122.115685
Before Visiting
Some artworks may be located in areas not accessible to the general public (especially in K-12 public schools). Consider contacting the site prior to a visit to ensure access.
Map






Menu