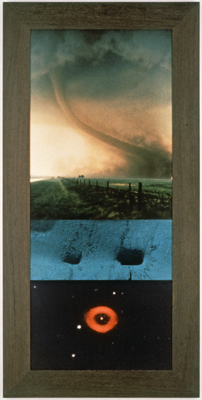 Artwork copyright Barbara Noah. Photo courtesy of the artist.
Reverie,
1990
ABOUT THE ARTWORK
Artist Barbara Noah hand-colored and combined different photo images in Reverie as an exploration of dreams, memories, and the state of the mind. It is part of a body of artworks that investigate our reflex to see a face with human features, even in disconnected images. The artwork also invites a personal interpretation of its symbols. She notes that this piece "contains intentionally mysterious imagery: a tornado for 'hair' or thought, twisted and punctured metal for 'eyes' that are closed, sleeping, or dreaming, and the ring nebula as a mouth. The title Reverie can refer to dreams, daydreams, or to the original French, resver or rever, to wander or to be delirious. It is possible to interpret the piece and its mood a number of ways, from turbulent to pensive."
This artwork was acquired for the State Art Collection in partnership with Kent School District.
ABOUT THE ARTIST
Seattle-based mixed-media artist Barbara Noah creates conceptual artworks, including photographs, sculptures and paintings.
Noah has taught art at national colleges and universities, including Cornish College of the Arts and the University of Washington, both in Seattle. She received a Bachelor of Arts in Art from Mills College in Oakland, California and a Master of Fine Arts degree from the Pratt Institute in Brooklyn, New York. Noah received the 2011 Twining Humber Award for lifetime artistic achievement.
ARTWORK DETAILS
| | |
| --- | --- |
| Material Category | Work on paper - mixed media |
| Medium | Oil paint on photo emulsion on paper |
| Dimensions | 57 5/8 in x 24 in |
| ID Number | WSAC1990.269.000 |
| Acquisition Method | Direct purchase |
| Artist Location | Washington, United States |
Location Information
Agency
Washington State Senate
Artwork Location
Senator Marko Liias's Office
Hallway behind Senate Floor
WA County
Thurston
Placement
Interior
Site Type
State Agency
Address
309 Legislative Building, Capitol Campus
Olympia, WA 98504
Geo. Coordinates
47.035728 | -122.904804
Before Visiting
Some artworks may be located in areas not accessible to the general public (especially in K-12 public schools). Consider contacting the site prior to a visit to ensure access.
Map




Menu