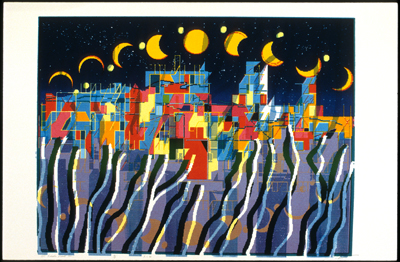 Artwork copyright Carl Chew. Photo courtesy of the artist.
All Roads Lead To...,
1986
Carl Chew

(American, born 1948)
Location:
Ridgetop Middle School, Silverdale
ABOUT THE ARTWORK
Seattle based artist Carl Chew pushes boundaries of high and low art with a vivacious flourish in an array of media. An abstracted nightscape printed with a pattern resembling a textile, All Roads Lead To... fantastically depicts the phases of the moon reflected over stylized water and a cubist city.
This artwork was acquired for the State Art Collection in partnership with Central Kitsap School District.
ABOUT THE ARTIST
Seattle-based artist Carl Chew creates narrative-based artworks in a variety of materials, including art "postage" stamps, wool rugs, prints, and more. His works are characterized by their pop style, humor, and bold colors. He has worked for Seattle Public Schools as a K-12 teacher in science, art, and math. He received a Bachelor of Science degree and a Master of Fine Arts degree from the University of Washington in Seattle.
ARTWORK DETAILS
| | |
| --- | --- |
| Material Category | Work on paper - print |
| Medium | Screenprint (ink) on paper |
| Dimensions | 16 1/2 in x 22 in |
| ID Number | WSAC1989.051.000 |
| Acquisition Method | Direct purchase |
| Artist Location | Washington, United States |
Location Information
Agency
Central Kitsap School District
Artwork Location
Ridgetop Middle School
Office, conference room, east wall
WA County
Kitsap
Placement
Interior
Site Type
Public School
Address
10600 Hillsboro Dr NW
Silverdale, WA 98383
Geo. Coordinates
47.658333 | -122.668091
Before Visiting
Some artworks may be located in areas not accessible to the general public (especially in K-12 public schools). Consider contacting the site prior to a visit to ensure access.
Map




Menu