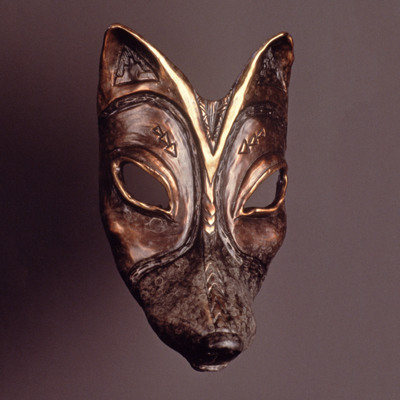 Artwork copyright Lillian Pitt. Photo courtesy of the artist.
Coyote,
1998
Lillian Pitt

(American | Confederated Tribes of Warm Springs, born 1943)
Location:
The Evergreen State College, Olympia
ABOUT THE ARTWORK
Coyote is part of Native American artist Lillian Pitt's body of sculptural masks. Created from bronze, Pitt notes that in this piece she aims "to create a visual language that will translate the stress on things in the natural world into a voice that will make everyone aware of the responsibility we all have to work inside the circle of things that supports life on earth."
This artwork was acquired for the State Art Collection in partnership with The Evergreen State College.
ABOUT THE ARTIST
Northwest Native American artist Lillian Pitt creates fine art sculptures, masks, jewelry, and prints in a variety of materials including clay, bronze, and glass. Her art reflects and celebrates her Warm Springs, Yakama and Wasco heritage. She was honored with a Governor's Award of the Oregon Arts Commission in 1990.
In her own words: "Everything I do, regardless of the medium, is directly related to honoring my ancestors and giving voice to the people, the environment and the animals. It's all about maintaining a link with tradition, and about honoring the many contributions my ancestors have made to this world."
ARTWORK DETAILS
| | |
| --- | --- |
| Material Category | Sculpture - other metals |
| Medium | Bronze |
| Dimensions | 11 1/2 in x 7 in x 4 in (irregular dimensions) |
| ID Number | WSAC1999.066.000 |
| Acquisition Method | Direct purchase |
| Artist Location | Oregon, United States |
Location Information
Agency
The Evergreen State College
Artwork Location
The Evergreen State College
Lab II, CAL Lab
WA County
Thurston
Placement
Interior
Site Type
University
Address
2700 Evergreen Parkway NW
Olympia, WA 98505
Geo. Coordinates
47.072391 | -122.978838
Before Visiting
Some artworks may be located in areas not accessible to the general public (especially in K-12 public schools). Consider contacting the site prior to a visit to ensure access.
Map




Menu