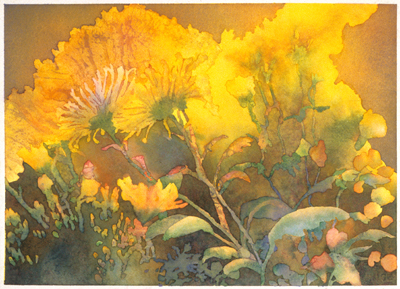 Artwork copyright William Winden. Photo courtesy of the artist.
Alpine Meadow,
1993
William Winden

(American, born 1931, died 2009)
ABOUT THE ARTWORK
Late artist William Winden's vivid watercolor Alpine Meadow captures the rich beauty and emotional resonance of the natural environment. Music served as an organizing element and influence in the creation of this piece. Winden explained that this practice of listening to music while painting kept him "in the presence of controlled rhythms, tone colors and overall formal designs."
This artwork was acquired for the State Art Collection in partnership with Kent School District.
ABOUT THE ARTIST
Late Northwest artist William Winden created expressive landscape paintings and prints. Winden grew up in Tacoma in Western Washington, swimming and boating on Puget Sound, and hiking in Washington state's woods and mountains, eventually climbing to the summit of Mount Rainier. He believed that "stories are told by music and art, often in a way of which words are incapable." His artworks communicate the beauty, strength, and fragility of the natural world.
ARTWORK DETAILS
| | |
| --- | --- |
| Material Category | Work on paper - painting |
| Medium | Watercolor paint on paper |
| Dimensions | 11 in x 15 in |
| ID Number | WSAC1999.040.000 |
| Acquisition Method | Direct purchase |
| Artist Location | Washington, United States |
Location Information
Agency
Kent School District
Artwork Location
Glenridge Elementary
Main hall
WA County
King
Placement
Interior
Site Type
Public School
Address
19405 120th Ave SE
Kent, WA 98058
Geo. Coordinates
47.428276 | -122.182903
Before Visiting
Some artworks may be located in areas not accessible to the general public (especially in K-12 public schools). Consider contacting the site prior to a visit to ensure access.
Map


Menu