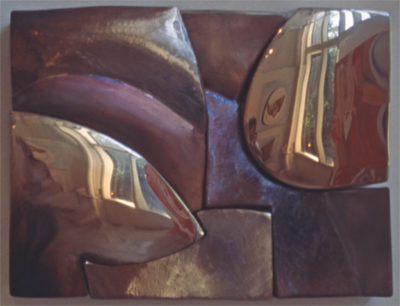 Artwork copyright Bruce West. Photo courtesy of the artist.
Quiet Landscape,
1994
Bruce West

(American, born 1939)
Location:
Lincoln High School, Tacoma
ABOUT THE ARTWORK
Sculptor Bruce West created Quiet Landscape using a self-invented machine that allows him to bend, shape and form sheets of stainless steel. He then heats the sculpture to a very high temperature to create different colors. Forms found in the natural world and the artist's garden inspired the curves and valleys of this composition.
This artwork was acquired for the State Art Collection in partnership with Tacoma School District.
ABOUT THE ARTIST
Portland, Oregon-based artist Bruce West creates free-standing and wall sculptures out of steel. His works explore abstract, geometric, and natural forms.
ARTWORK DETAILS
| | |
| --- | --- |
| Medium | Press formed and fabricated stainless steel - polished, burnished, and heat treated for color |
| Dimensions | 14 1/2 in x 20 in x 4 in |
| ID Number | WSAC1998.178.000 |
| Acquisition Method | Direct purchase |
| Artist Location | Oregon, United States |
Location Information
Agency
Tacoma Public Schools
Artwork Location
Lincoln High School
Lunchroom
WA County
Pierce
Placement
Interior
Site Type
Public School
Address
701 South 37th St.
Tacoma, WA 98408
Geo. Coordinates
47.225109 | -122.442020
Before Visiting
Some artworks may be located in areas not accessible to the general public (especially in K-12 public schools). Consider contacting the site prior to a visit to ensure access.
Map


Menu