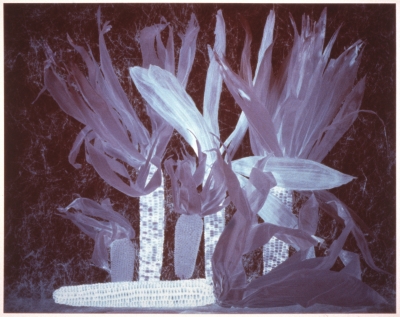 Artwork copyright Deborah Giannini. Photo courtesy of the artist.
Corn Bouquet,
1992
ABOUT THE ARTWORK
Corn Bouquet is a negative, still-life print by photographer Deborah Giannini. She captured a balanced and energetic composition with corn as her subject, and she notes: "there had always been something very special to me, spiritually, when my eyes took in the various earth-tones of the kernels, the long linear shapes and the almost paper-thin husks. The husks seemed to have an extended out-motion, like dancer's arms."
This artwork was acquired for the State Art Collection in partnership with Central Kitsap School District.
ABOUT THE ARTIST
Deborah Giannini is a still-life and landscape photographer based in Monroe, Washington.
ARTWORK DETAILS
| | |
| --- | --- |
| Material Category | Work on paper - photograph |
| Medium | Silver dye bleach print |
| Dimensions | 24 in x 28 in |
| ID Number | WSAC1993.141.000 |
| Acquisition Method | Direct purchase |
| Artist Location | Washington, United States |
Location Information
Agency
Central Kitsap School District
Artwork Location
Fairview Junior High School
Main office, across from Health Room
WA County
Kitsap
Placement
Interior
Site Type
Public School
Address
8107 Central Valley Rd. NE
Bremerton, WA 98311
Geo. Coordinates
47.636755 | -122.650698
Before Visiting
Some artworks may be located in areas not accessible to the general public (especially in K-12 public schools). Consider contacting the site prior to a visit to ensure access.
Map





Menu