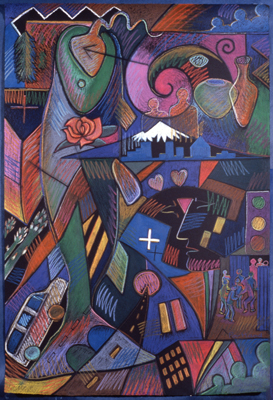 Artwork copyright Conrad House. Photo courtesy of the artist.
Portland #1,
1988
Conrad House

(American | Navajo-Oneida, born 1956, died 2001)
ABOUT THE ARTWORK
Portland #1 is part of a series of pastel drawings created by artist Conrad House while living in Portland, Oregon. He uses an exuberant, spontaneous composition of layered images. Filled with symbolic and iconic references, this piece invites the viewer to step into and explore the complex interplay of colorful imagery. It also features symbols and objects related to his Native American heritage. House described his drawing process as playful, noting "I thoroughly enjoy creating. It allows me a lot of freedom to explore, experiment and grow."
This artwork was acquired for the State Art Collection in partnership with Lake Stevens School District.
ABOUT THE ARTIST
Artist Conrad House (Navajo and Oneida, 1956-2001) created expressive artworks in multiple mediums, including ceramics, paintings, drawings, and glasswork. In his own words, "What is most important to me is our responsibility to ourselves, each other, animals, plants and other life forms on this living Earth. As our natural world shrinks, so does our ability to maintain a balance with our natural surroundings. What we do now will affect the future and the quality of life to come."
Conrad studied at State University of New York (SUNY) at Johnstown before earning a Bachelor of Fine Arts degree from the University of New Mexico in 1980. He pursued graduate studies at the University of Oregon. He has also spent time at Pilchuck Glass School in Stanwood, Northwestern Washington. His artworks are in the collection of the Smithsonian's National Museum of the American Indian, Portland Art Museum (0regon), and many more.
ARTWORK DETAILS
| | |
| --- | --- |
| Medium | Pastel on paper |
| Dimensions | 44 in x 30 in |
| ID Number | WSAC1992.121.000 |
| Acquisition Method | Direct purchase |
| Artist Location | Arizona, United States |
Location Information
Agency
Lake Stevens School District
Artwork Location
Skyline Elementary School
Main office
WA County
Snohomish
Placement
Interior
Site Type
Public School
Address
1033 91st Ave. SE
Lake Stevens, WA 98258
Geo. Coordinates
47.987092, -122.105171
Before Visiting
Some artworks may be located in areas not accessible to the general public (especially in K-12 public schools). Consider contacting the site prior to a visit to ensure access.
Map