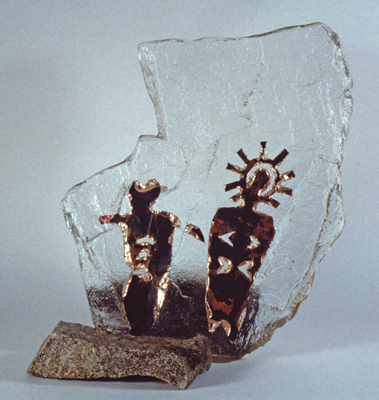 Artwork copyright Caroline Orr. Photo courtesy of the artist.
The Ancestors,
1993
Caroline Orr

(American | Confederated Tribes of the Colville Reservation | Lillooet Okanagan, born 1943)
Location:
Beaver Lake Middle School, Issaquah
ABOUT THE ARTWORK
The Ancestors is a mixed-media and glass sculpture by artist Caroline Orr, created during a residency at Pratt Fine Arts in Seattle. This piece is part of a series of glassworks composed using symbols and materials that reflect the culture and history of the Okanogan plateau, where Orr traces her heritage thousands of years. This series uses pictographic images to depict myths of transformation.
This artwork was acquired for the State Art Collection in partnership with Issaquah School District.
ABOUT THE ARTIST
Northwest artist Caroline Orr grew up on the Okanogan plateau of Central Washington State. Her paintings, prints, and sculptures are influenced by her Native American heritage, and the stories passed down by her ancestors. The Okanogan traditional territory spans the U.S.-Canada boundary in Washington and British Columbia. She notes "Beginning my life on a reservation cattle ranch, I have always been inspired by nature and my native heritage, taught to me by the legends of my grandparents. Art in the form of painting, printmaking and glass techniques have helped me to express my appreciation for these stories and the wisdom of my ancestors."
Orr first studied printmaking at the University of Manitoba in Winnipeg, Manitoba, Canada. She received a Bachelor of Fine Arts degree from the University of Washington in Seattle in 1977.
ARTWORK DETAILS
| | |
| --- | --- |
| Medium | Cast glass, copper, and reservation rock |
| Dimensions | 10 1/2 in x 8 3/4 in x 6 in |
| ID Number | WSAC1995.359.000 |
| Acquisition Method | Direct purchase |
| Artist Location | Washington, United States |
Location Information
Agency
Issaquah School District
Artwork Location
Beaver Lake Middle School
Library, computer lab area shelf
WA County
King
Placement
Interior
Site Type
Public School
Address
25025 SE 32nd St.
Issaquah, WA 98027
Geo. Coordinates
47.580222 | -122.005927
Before Visiting
Some artworks may be located in areas not accessible to the general public (especially in K-12 public schools). Consider contacting the site prior to a visit to ensure access.
Map







Menu