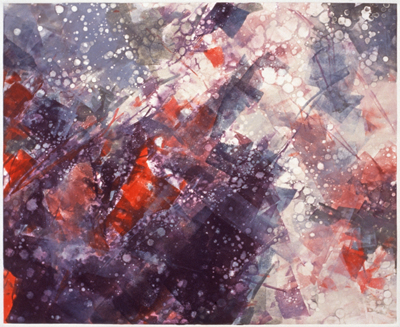 Artwork copyright Robert Graves. Photo courtesy of the artist.
Light Splash,
1993
Robert Graves

(American, born 1929, died 2013)
Location:
Vinland Elementary, Poulsbo
ABOUT THE ARTWORK
Light Splash is an expressive monoprint by artist Robert Graves. A monoprint is created by painting directly onto the printing plate, and only one print copy can be made from the plate. The abstract imagery in this monoprint is comprised of layers of color. Of his compositions, Graves notes "my object is not to copy nature, but relate on the canvas certain entities of personal expression."
This artwork was acquired for the State Art Collection in partnership with North Kitsap School District.
ABOUT THE ARTIST
Late artist Robert Graves lived and worked in Wenatchee in Central Washington, where he taught art at Wenatchee Valley College for 32 years. In 1976 he founded and directed the college's community art gallery, which was renamed in his honor in 2007. His abstract paintings and prints are expressive explorations and abstractions of the Northwest environment.
ARTWORK DETAILS
| | |
| --- | --- |
| Material Category | Work on paper - print |
| Medium | Monoprint |
| Dimensions | 17 1/2 in x 22 in |
| ID Number | WSAC1995.214.000 |
| Acquisition Method | Direct purchase |
| Artist Location | Washington, United States |
Location Information
Agency
North Kitsap School District
Artwork Location
Vinland Elementary
Above entrance to B-pod
WA County
Kitsap
Placement
Interior
Site Type
Public School
Address
22104 Rhodedendron Lane NW
Poulsbo, WA 98370
Geo. Coordinates
47.763543 | -122.673896
Before Visiting
Some artworks may be located in areas not accessible to the general public (especially in K-12 public schools). Consider contacting the site prior to a visit to ensure access.
Map


Menu