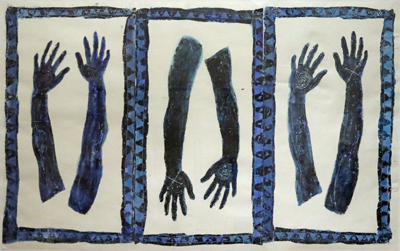 Artwork copyright Deborah Mersky. Photo courtesy of Washington State Arts Commission.
Crazy Arms,
1993
Location:
Kirkland Middle School, Kirkland
ABOUT THE ARTWORK
Deborah Merksy created Crazy Arms as a tribute to country music singer Patsy Cline using a clay printing process as well as hand-painting with gouache and watercolor.
This artwork was acquired for the State Art Collection in partnership with Lake Washington School District.
ABOUT THE ARTIST
Artist Deborah Mersky creates artworks in a variety of media, including painting, prints, and large-scale public installations. She notes, "the overlapping worlds of nature and human habitation on earth is what interests me, particularly the delicate, off kilter moment we currently reside in."
ARTWORK DETAILS
| | |
| --- | --- |
| Material Category | Work on paper - painting |
| Medium | Hand-colored clay print on paper |
| Dimensions | 34 1/2 in x 56 1/2 in (sheet) |
| ID Number | WSAC1995.199.000 |
| Acquisition Method | Direct purchase |
| Artist Location | Texas, United States |
Location Information
Agency
Lake Washington School District
Artwork Location
Kirkland Middle School
Main Office
WA County
King
Placement
Interior
Site Type
Public School
Address
430 18th Ave.
Kirkland, WA 98033
Geo. Coordinates
47.690281 | -122.200645
Before Visiting
Some artworks may be located in areas not accessible to the general public (especially in K-12 public schools). Consider contacting the site prior to a visit to ensure access.
Map



Menu